Hitachi launches Blu-Ray-SSD hybrid drive
HyDrive is go
Hitachi is launching HyDrive, a Blu-ray drive with an embedded solid state drive (SSD), and working with AMD and ASUS to deliver notebooks using it.
The part of Hitachi doing this is Hitachi LG Data Storage (HLDS) and the idea is to use the 32GB or 64GB as a place to store Windows and system applications and get the SSD benefits of 30 to 60 per cent faster booting, application load and shutdown times. The 32GB version has space for this with some left over as a cache.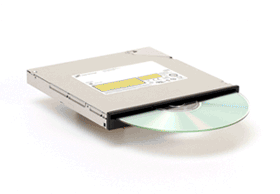 Alternatively the HyDrive can be used purely as a cache with a filter driver from HLDS populating it with active data.
The HyDrive can be used in conjunction with a PC's normal hard disk drive or, HLDS says, on its own in netbooks and tablet form-factor devices with no need for flash on the motherboard. The drive is 12.7mm thick, though, which ought to limit its tablet use.
Whichever design is used the HyDrive can play CD, DVD and Blu-ray media and write CD and DVD media.
The HyDrive has a 3Gbt/s SATA interface with the 6Gbit/s SATA interface coming in March 2011 along with a capacity upgrade of up to 256GB of flash. The flash reads up to 175MB/sec and writes at up to 60MB/sec with 512k blocks but only 6MB/sec with random 4k blocks.
The optical drive reads Blu-ray at 4.8x 21.6MB/sec, DVD at 8x 11MB/sec and CD at up to 24x 3.6MB/sec. It writes DVD at up to 8x 11MB/sec and CD at 24x 3.6MB/sec.
HLDS claims HyDrive will offer improved media readability with smooth and seamless playback of discs in poor condition due to scratches and fingerprints. It says there is much more to come with the next generation HyDrive.
HLDS has been working with AMD, ASUS and MONEUAL on the product's development and launch. Niles Burbank, the senior product manager for AMD's Platform Solutions, said AMD's "8-series chipsets have both the required hardware and driver support for HyDrive, including SATA port multiplier support, which enables combined optical and solid state functionality".
Seagate launched a hybrid SSD + hard drive last week, the Momentus XT. Flash technology pricing has dropped low enough to be affordable in hybrid drives, Seagate and HLDS hope, but is not yet low enough to replace the mass storage spinning disk part of such drives.
HyDrive is going to be first available in August 2010, installed on the Family PC MN 102-O from MONEUAL. ASUS plans to launch the first-generation HyDrive on its Eee Top range, and the second generation HyDrive on the N61DA performance notebook after testing HLDS samples. ®