There's big news from the world of rayguns this week, as the US Navy has announced successful use of a laser cannon fitted to its well-known "R2-D2" robotic gun turret installation to shoot down other, flying robots in a test.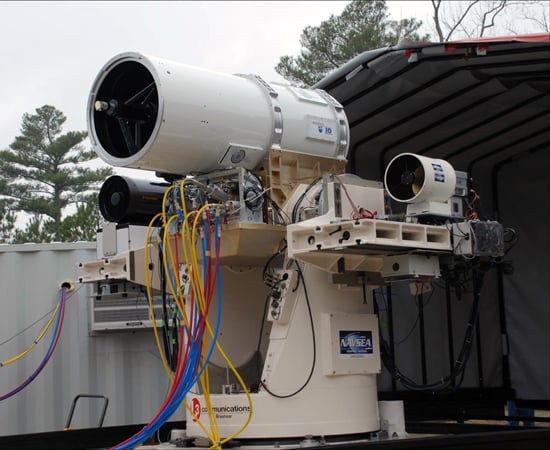 Shark-portability issues continue to dog the technology's entry into the supervillainry sector.
The hot robot-on-robot raygun action took place at San Nicolas Island off the coast of California on 24 May, according to the US Naval Sea Systems command (NAVSEA). Naval spokesmen added:
This marks the first Detect-Thru-Engage laser shoot-down of a threat representative target in an over-the-water, combat representative scenario.
Five other unmanned air vehicles have previously been burned down by what is known officially as the Laser Weapon System (LaWS).
"The success of this effort validates the military utility of [rayguns] in a maritime environment. Further development and integration of increasingly more powerful lasers into Surface Navy LaWS will increase both the engagement range and target sets that can be successfully engaged and destroyed," said NAVSEA's Captain David Kiel.
The LaWS is essentially a an extra option added to an existing "Phalanx" automatic 20mm cannon installation. Phalanx - occasionally known as the "R2-D2" among US sailors - can detect incoming threats such as guided missiles with its own radar, aim itself and blast the target out of the sky without input from human operators: the only control options normally available are to switch it on and off, or in some cases to adjust the minimum speed something must be going at before it is fired on.
But Phalanx is limited in range and must be reloaded every so often. Also, when used ashore to defend military bases from mortar and rocket attacks (which has taken place in Iraq and Afghanistan) it tends to shower the surrounding neighbourhood with shrapnel and even entire 20mm shells whose self-destruct fuses have failed.
Hence the desire for laser Phalanx. LaWS is just one system being considered. A rival, known as Maritime Laser, is under development by the Office of Naval Research. ®
Similar topics