Wealthy Bond fans were left with heartbeats racing today after it was announced that the spy's most famous car will be auctioned.
Driven by Sean Connery in films Goldfinger and Thunderball, the Aston Martin DB5 is widely regarded as the ultimate Bond car and has never sold before at public auction.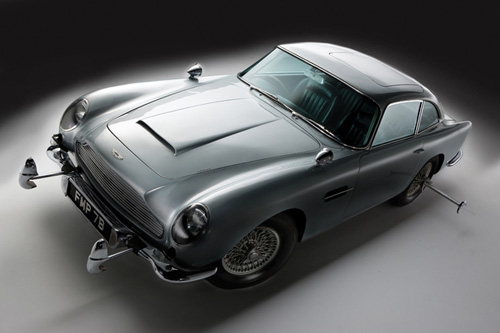 Go-Go gadget car
The vehicle comes fully equipped with all the Q modifications, including oil slick and smokescreen capabilities, bulletproof shielding and an ejector seat. There's also revolving licence plates and machine guns hidden in the front indicators. Okay, the guns don't work, but they pop out at the click of a button and would certainly have the desired effect in a road rage incident.
Whether you would get yourself into that situation driving this treasure is another matter entirely; it's not a vehicle you would casually ride around in.
With just 30,000 miles on the clock, it's been in storage since the 70s when American DJ Jerry Lee paid $12,000 for the car in 1969.
The Jerry Lee Foundation, a philanthropy established by the 70 year old, is set to receive the £3.5 million expected from the auction.
Jaws will hit the ground when the bell tolls, so get down to Battersea, London on October 27 and get your hand in the air... if you can afford it.