Vulture 1 GPS test live at 2pm
PARIS takes to the air - follow us here
Updated At 2pm this afternoon, the El Reg Paper Aircraft Released Into Space (PARIS) programme take to the air for the first time, for a live test of the Vulture 1 GPS unit.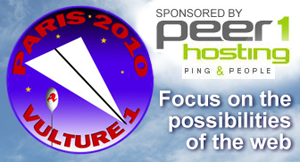 At the helm for this test run is PARIS radio man Steve Daniels (callsign G6UIM), who's put together the lightweight air-to-ground comms package, details of which you can find here.
Today, the unit (callsign PARIS-6) will be transmitting to Steve's transceiver (callsign G6UIM-12) on 433.950. From there, it's passed to his laptop allowing live tracking of both PARIS-6 and G6UIM-12 via the APRS system.
And, thanks to invaluable help from the guys down at aprs.fi, we've put together this map which allows you to follow both in real time:
You'll need to refresh the map to get updates. Note that G6UIM-12 won't be moving for this test, but on the big day it will enable our beloved readers to track the Vulture 1 pursuit vehicle as it speeds to recover our plane.
Just how we're getting the GPS unit airborne we're not saying, but it should quickly become evident what's going on. Enjoy the ride. ®
Bootnote
Alas, the live map didn't update because our internet fell over - but we can tell you the test was a great success, and we'll have a .kml file for you on Thursday.
Additional PARIS resources
Our dedicated PARIS section, with all previous updates, is right here.
New to PARIS? We have a basic mission summary here (pdf).
Check out our YouTube channel - currently featuring a few camera tests.