Synology DiskStation DS210j Nas box
The ultimate budget home server?
---
Review Synology's Disk Station 409 Slim was one of Reg Hardware's favourite Nas boxes of 2009. With the DiskStation DS210j, the company addresses the needs of home users for around half the price of the Slim. An unpopulated device, the DS210j has two Sata drive bays with RAID support and more features than any hi-tech household could possibly need.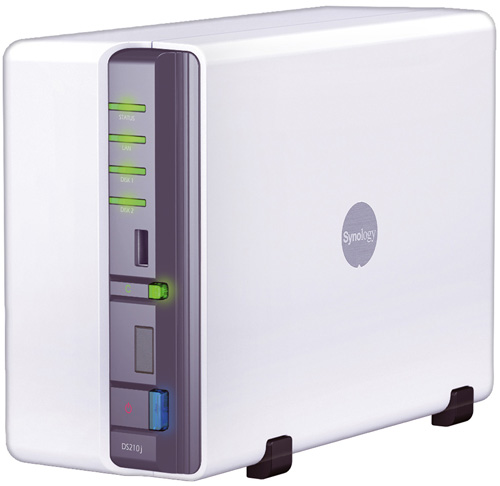 Home service: Synology's DiskStation DS210j
Whilst it is commonplace to find features such as basic HTTP and FTP servers in many Nas boxes, Synology has gone a step further with its Web Station software and has included support for Apache, PHP and MySQL along with Surveillance Station 4. The latter provides support for up to five IP surveillance cameras for the paranoid user. Thus, anyone with a decent uplink can easily run their own web server and monitor enough cameras to take on the role of Big Brother. Watch out Endemol.
The DS210j also features a DLNA media server, iTunes server, Audio Station 2, Photo Station 4, Download Station 2 and File Station 3. Three free apps: DS Audio, DS Photo and DS Cam offer access from the iPhone.
And the list doesn't end there. Data Replicator 3 allows Windows users to manage scheduled backups and enables Time Machine support for Mac users. For business users, there is also a Server Backup tool and iSCSI Target support, plus Mail Station allowing users to run their own mail server. All of these features come standard on all Synology products, which support DiskStation Manager 2.3.
On the hardware side, you will find two 3.5in Sata bays, three USB 2.0 ports and a gigabit Ethernet port all wrapped up in a simple white and grey plastic enclosure, which feels light but seems durable. This lends to a rather plain but attractive appearance, spoiled only by the absence of eSata and the blanking panel that appears where the socket would be and cheapens the overall look somewhat.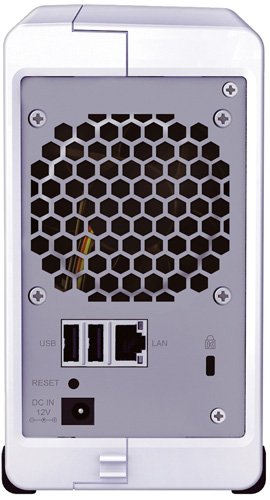 The usual suspects but, alas, no eSata