Google has expanded its mobile search to encompass online application stores including iTunes and the Android Marketplace, slipping itself between iTunes and the customer.
Right now it's only those two app stores, and only if Google.com is accessed using an iPhone or Android handset from within the USA. But the trend is easy to see as Google paints itself as the portal through which all online services are accessed, even if they're run by a competitor.
Google is treading very carefully with this new service, only showing app store results if terms like "download" or "app" are used in the search, but the search results do show the price, rating and number of reviews the application has received. That should enable users to make a purchasing decision without recourse to iTunes or the Android Marketplace, which is nice for Google.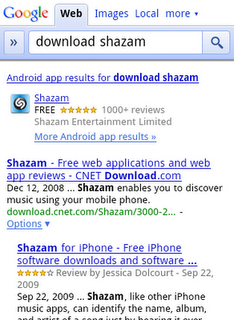 Google saves you the trouble of browsing elsewhere
One might wonder why a user would go to Google rather than the in-built application store browsers, but that would be to forget just how pervasive Google is to many users' internet experience. It's worth remembering what happened when the search term "Facebook" started returning a blogger's page: users who relied on Google's search bar were at a loss as to how to find the social networking site, indicating just how powerful Google has become.
If Google can scrape data from marketplaces then developers will be able to pay Google to have their iPhone applications well placed, which isn't going to amuse Apple much and must certainly play a role in the ongoing discussions about whose search engine is going to get prime placement in future Apple products. ®