Nokia will shortly launch a bicycle-powered recharging kit for its phones, providing free power as long as you can pedal at eight miles per hour.
Not entirely free of course, you'll pay for it in food energy and tired leg muscles. The kit will be available around the world later this year, and consists of the familiar "bottle dynamo" which snaps against the tyre when in use, adding a tiresome drag to one's pedalling. It connects to a phone which can be clipped to the handlebars by those who find weaving through London's traffic insufficiently challenging.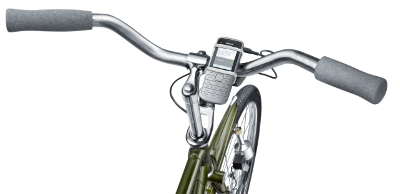 Nokia suggests you might like to make use of Ovi Maps so you can see where you're going, which might be good in rural settings. You'll certainly want to avoid the additional power consumed by the always-connected Google Maps.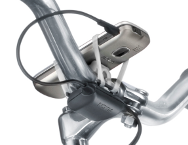 Not the first bicycle-powered phone charger, but the first with a Nokia logo.
Nokia talks about developing markets, and the possibility of sustainable micro-businesses setting up on third-world street corners, but the bicycle charging kit is more likely to find a home on the handlebars of the annoying twonk who parades his riding into work as a badge of moral superiority - so it's a shame that such types are inevitably equipped with iPhones these days. ®
Similar topics