This article is more than 1 year old
Pacific islands growing not shrinking, says old study
This time, somebody's noticed
Huge compensation claims filed by Pacific states including Tuvalu have been hit by a three-year old study, dramatically "rediscovered" by New Scientist magazine today. The study concluded that many Micronesian islands are growing, not shrinking.
"It has been thought that as the sea level goes up, islands will sit there and drown. But they won't," Professor Kench at the University of Auckland in New Zealand told the mag.
Kench has been saying us much for a while, but most editors shunned the news.
Kench's study was published in in the journal Global and Planetary Change in November 2007, and last year he told Associated Press that islands apparently rebuild themselves.
Five years ago Pacific islands became a tragic poster children of Al Gore's film An Inconvenient Truth. The BBC called the Maldives "a paradise faced with extinction".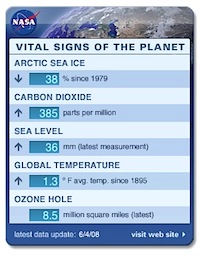 A NASA widget
But just four of the 27 islands studied by the team - chosen because sea levels had risen in the past sixty years - had diminished in size. The other 23 had expanded, one by as much as 60 per cent.
The islands apparently expand their mass by accumulating sediment, and through natural processes - not surprisingly, since they're built on live biomatter: coral.
"Perhaps [they] do not need to flee their country," Kench concludes, once again.
Indeed.
There's also another reason for the changes in above-surface mass, but it's one you'll rarely hear from environmental activists, particularly 'climate change' campaigners. Satellite readings show little change in sea levels, and even more so when the cyclical ENSO (El Nino Southern Oscillation) is taken into account. In written evidence to Parliament in 2005, the former president of the INQUA Commission on Seal Level Changes and Coastal Evolution, Nils-Axel Mörner, concluded there had been no acceleration in sea level rises, and no net rise since 1970.
Flooding has been experienced on the coral islands, but is a consequence of erosion. The more you neglect your local environment, the more it erodes, and the more flooding you get. The IPCC bases its projections of sea-level rises on computer models.

Bobbing along: Tuvalu's tidal guage 1978-2003
Kench and fellow academic Arthur Webb at the South Pacific Applied Geoscience Commission in Fiji used a sea level rise figure of 2mm per decade.
Either way, the ability of the islands to regenerate is welcome. But the political fallout may be huge.