Compensation culture
Historically, Pacific island cultures have shown a canny ability to adapt: hopping from island to island in response to a dynamic, changing environment. That much is evident from their maritime skills. (Thor Heyerdahl contended that the islands were originally settled by South Americans, making a journey of over 4,000 miles, and he demonstrated how this was possible.) This doesn't sit comfortably with environmentalist narratives, where humans are helpless before a vengeful Earth Goddess. We don't have the ability to organise and adapt, and must instead do penance.
The prospect of climbing on the compensation bandwagon has seen modern island states play down the Pacific islanders' strong cultural legacy of independence.
There's cash at stake. Lots of it.
Last October ("with fish as witnesses", CNN reported) Maldives President Mohamed Nasheed and his cabinet met six metres below sea level to highlight "the threat of climate change". And here he is, complaining about the biscuits being damp: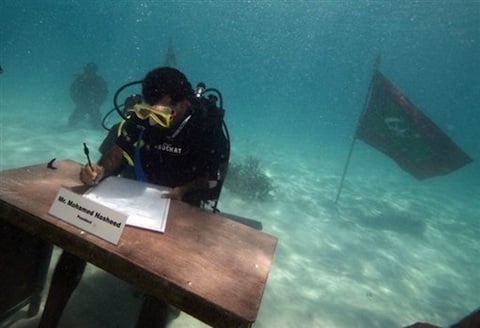 Maldives cabinet meets underwater
Nasheed won a "Champion of the Earth" award from the United Nations, and something even more valuable from the EU. In April the European Commission pledged €6.5m in climate change aid.
That's well worth a read in detail, if you want to follow the money trail carefully.
How large are the sums in question?
The Copenhagen Accord (PDF) pledged $100bn a year for "adaptation and mitigation," specifically "prioritized for the most vulnerable developing countries" including, you guessed it… "small island developing States" (p3).
It appears to be a clear case of the opportunistic pickpocketing the superstitious and the gullible. Is a fraud claim against these governments entirely out of the question? ®