PARIS pops down to QinetiQ
Vital hypobaric chamber test proves... interesting
---
Here, you lovely people, is our amazing, pressure-operated mechanical release device, shown in test bench mode: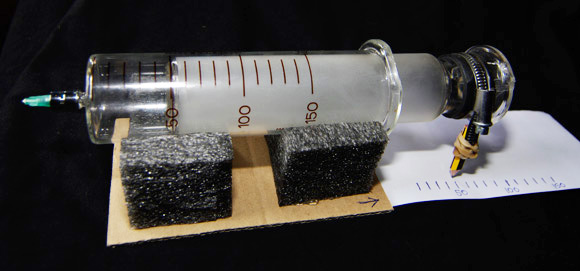 That's right: it's a not inexpensive 150ml precision glass syringe, with the needle nozzle sealed up. All that's lacking in our snap are the hi-tech rubber bands securing the syringe to the beautifully-engineered foam mounts, but what you see is pretty well what went into the hypobaric chamber.
According to our calculations, X amount of air in the syringe at sea level should expand to Y amount at an equivalent of 20,000 metres - the planned Vulture 1 release height.
If that worked, then it was just a matter of attaching a mechanism to the plunger - rather than the recording pencil seen here - which will drop Vulture 1 when the plunger extends the predetermined distance.
Well, here's our decidedly Heath Robinson contraption in the chamber prior to the test, with a plastic companion just to see if that was a viable alternative material: