Review Summer is here, sort of. The beaches are soon to be filled to capacity and anyone with any sense is clambering aboard the first plane to somewhere hot and sandy. That's a disaster for most cameras, which don't happily take to beaches, airport baggage handlers or seawater. Unless you've a 'ruggedised' model, of course,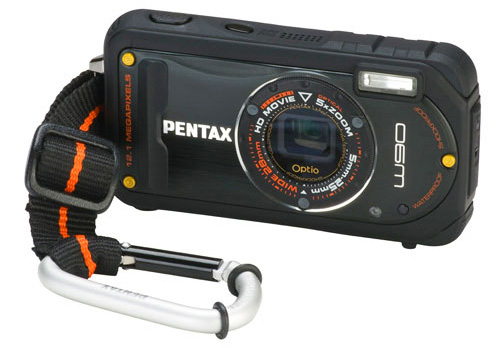 Environment friendly? Pentax's Optio W90
Having reviewed the Olympus sandproof, weatherproof, underwater compact, the 14Mp Tough 8010 recently, a test of the 12.1Mp Pentax Optio W90 seemed in order. This is yet another camera claiming all kinds of disaster resistance and it sports a nifty karabiner too, either for rock-climbing, or simply showing off.
The W90 is a slim, easily pocketable compact with a practical, all-purpose lens and enough durability to outlast virtually any environment, weather, or mishap you can throw at it. Where the Olympus Tough 8010 weighed a shade less than 200g, the W90 is 50g lighter and is considerably smaller in the hand too.
The sides, top and bottom of the camera are surrounded by a strip of rubber, the better for gripping the camera and keeping out the elements. The visible screw heads on the front and back round off the styling, emphasising that the W90 is for real men. Cack-handed real men, that is.
The Pentax Optio W90 complies with MIL-STD 810F for shock proofing, which means, on paper, it will survive drops of 1.2 metres onto plywood. However, with testing safely out of the way, the W90 had far worse dished out. It survived six foot drops onto hardwood and being hurled across lawns, which suggests that 1.2m is just Pentax being cautious.

Basic controls on top
It also worked after being left in direct sunlight with the lens pointing at the sky. Like the Olympus Tough 8010 the W90 is rated for temperatures as low as -10, although it would be a surprise if it couldn't survive in much colder climates than that, particularly with sporadic warming in a snug pocket.