SpaceX Falcon 9 achieves orbit on maiden flight
Elon Musk rocket overhead
---
The SpaceX Falcon 9 launched on its maiden flight on Friday at 11:45am Pacific Daylight Time, 15 minutes short of the end of its four-hour launch window.
As live-blogged on the Space Exploration Technologies website:
Posted June 04, 2010 11:45 Pacific Time
T+ 00:00:06 Liftoff!
Posted June 04, 2010 11:46 Pacific Time
T+ 00:01:13 Flacon 9 is approaching maximum dynamic pressure (Max Q)
Posted June 04, 2010 11:47 Pacific Time
T+ 00:01:56 Plume behind the vehicle is expanding as the atmosphere thins, as expected
Posted June 04, 2010 11:48 Pacific Time
T+ 00:03:06 Stages have separated
Posted June 04, 2010 11:48 Pacific Time
T+ 00:03:34 Second Stage Ignition
Posted June 04, 2010 11:50 Pacific Time
T+ 00:05:35 As expected, the radiatively cooled expansion nozzle of the engine is glowing red hot. This operates like our Falcon 1 vehicle, but larger.
Posted June 04, 2010 11:54 Pacific Time
T+ 00:08:50 Second Stage Engine Shut-Down
Posted June 04, 2010 11:54 Pacific Time
T+ 00:09:04 Falcon 9 has achieved Earth Orbit!
Shortly afterward, The Reg received a SpaceX email that quoted founder Elon Musk as saying: "Nominal shutdown and orbit was almost exactly 250km. Telemetry showed essentially a bullseye: ~0.2% on perigee and ~1% on apogee."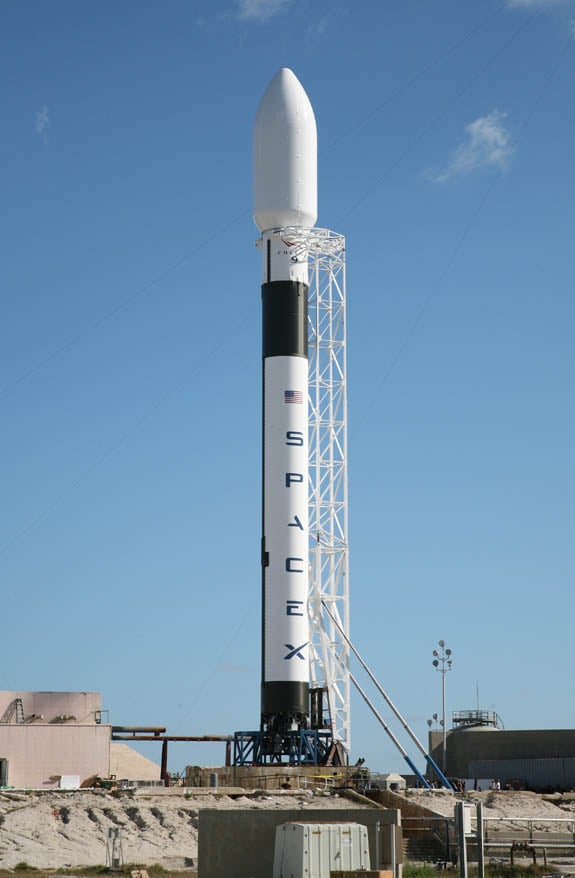 An earlier Falcon 9 on its Cape Canaveral, Florida, launch pad
Bullseye, indeed. Musk had earlier said that merely achieving orbit on the Falcon 9's first flight would be "100 per cent success" — and his two-stage, 54.9m (180ft), liquid oxygen and RP-1–fueled rocket's payload, what Musk described as "structural test article of our Dragon spacecraft," is at this moment zipping merrily about the globe, enjoying that success.
And success on a maiden voyage is unusual. According to a BBC report on the Falcon's feat, two-third of rockets introduced in the past 20 years have had unsuccessful first flights.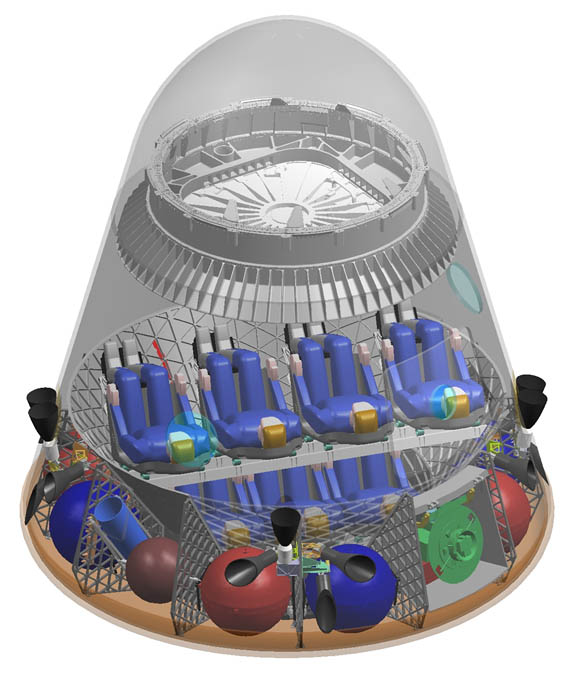 The SpaceX Dragon capsule can be configured for cargo or crew (shown)
Musk and company aren't the only ones breathing a sigh of relief as the Dragon sails over their heads. There are undoubtedly some smiles at the US National Aeronautics and Space Administration too. NASA has entered into contracts with SpaceX totaling $1.6bn for deliveries to the International Space Station (ISS) through at least 2015.
SpaceX also has missions scheduled for Canada, Argentina, Israel, and Europe, so if you want to hire the Falcon 9, you'd better call them soon. Pricing is reasonable — $45.8m to $51.5m — and "half-bay" deals are available as well.
These prices are guaranteed only through this Saturday, however, so act fast. But you may want to first thumb through the Falcon 9's Payload User's Guide — RTFM, as they say. ®