BP is purchasing search keywords such as "oil spill" on Google, Microsoft Bing, and Yahoo! in an effort to spin the ongoing clusterf**k in the Gulf of Mexico.
As noticed by the International Business Times and others, if you search on "oil spill" on Google, Bing, or Yahoo!, you may see a BP ad appear at the top of the results page. The ad points to the url www.bp.com/oilspillnews, where netizens can, in BP's words, find "Info about the Gulf of Mexico Spill" and "Learn More about How BP is Helping." Yes, helping. And yes, those are BP's caps: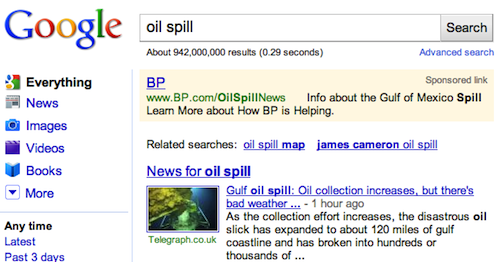 As of this afternoon Pacific, if you visit BP's "news" site, the header reads "Gulf of Mexico Response" and the top "news" link trumpets BP's "First Payment on Barrier Islands Project for State of Louisiana." All the while, you're greeted with some lovely pictures of oil rigs at sunset and men in hardhats cleaning beaches that look awfully clean to begin with.
No surprise there, then. ®