Webinar: Monitoring holistic social media conversations
There's always something uncomfortable about watching an ancient institution when it comes over all entrepreneurial; there's usually something dad-at-the-disco about it. But hats off to the British Library for attempting to channel some of the post-Falklands exuberance, and getting on down with social networks and the nation's brightest entrepreneurs.
The Library's Business and IP Centre runs a LinkedIn group, and it's become a magnet for some of the most enterprising outfits you can find. So enterprising, in fact, that one enterpreneurial Reg reader, who wishes to remain nameless, wants us to share them with you.
Here's an example of some blue-sky yet concrete advice on offer.

Mentoring
And here's another.
Rags to, er... not the most promising enticement
Meanwhile, don't spend too long on those cash flow forecasts. It's the crystals you need.

Get your vibrations right, and the profits will follow.
In fact, to prove we're not just picking out the odd spam out of a mass of meaningful entrepreneurial chatter, here's the a snapshot of the Top 10 entrepreneur conversational topics.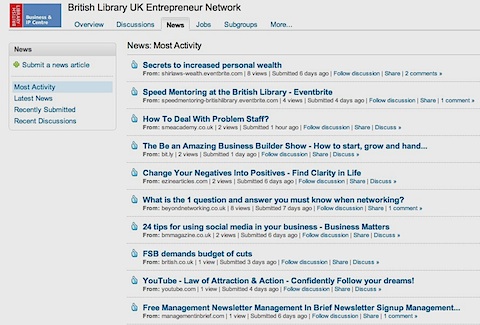 Top 10
Our correspondent - you remember, the one wishes to remain nameless - raised the issue with the Moderator. He wrote:
I just joined the LinkedIn Group you run for entrepreneurs - and it is so full of so called life coaches and mentors and 'thought leader strategists' I am instantly leaving.

It might sound pompous, but frankly I would not expect the British Library to be providing a forum for negative value spammers!
And back came this very interesting reply, from the Moderator - Melissa Byrd, who is a Marketing Executive at The British Library:
It can prove difficult to draw the line between spam and genuine businesses, and, like the Library itself, the group is open to all. I endeavour to remove spam-like posts.

There are, however, lots of genuine discussions taking place on the group and many users of the Library's Business & IP Centre are members.
Knock yourself out, love.
In other words: shove off matey, you're ruining the vibe. ®