Morgan Stanley reckons online advertising is worth $50bn a year in America alone, and that smartphones will rapidly become the platform of choice.
According to the analyst's Internet Trends report smartphones will outsell feature phones next year, but the crystal ball-gazing comes with a plethora of facts and figures about both mobile and fixed internet usage which do paint some interesting pictures of how things will develop.
The presentation runs to 53 bullet-point-laden pages with numerous snippets of data culled from various reports and analysis. These include confirmation that iPhone users continue to dominate mobile browsing (55 per cent of mobile browsing comes from an iPhone) despite only having 15 per cent of the market. iPhone users are also downloading the most applications - 47 a month compared to Android's 22 and Nokia's 5, though the last figure only counts Ovi sales, which is hardly fair.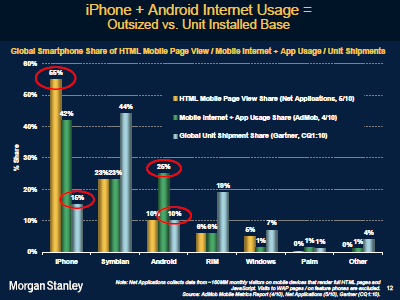 Applications are generating more data traffic than ever
Equally unfair is the figure of America surpassing Japan when it comes to 3G - 123 million subscribers as opposed to 99 million. Given that America has more than twice the population (309 million compared to 127 million) that's really not true. As a percentage of the population Japan is still comfortably ahead in 3G subscriptions: almost 80 per cent, with the USA boasting about half that.
But more interesting is the $11 per user that Japanese advertisers are spending every year, compared to the US figure of just under $3 in 2009, which Morgan Stanley identifies as a huge opportunity.
Equally unexploited is internet advertising in general. The presentation breaks down advertising spend by medium, and compares that to the amount of time users spend with each medium. Such a comparison shows advertisers hugely overspending on print advertising, while underspending on the internet by $50bn globally.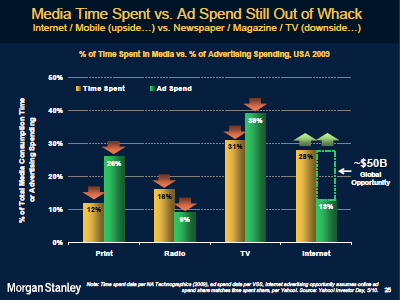 But what about those who read the paper while watching TV over the internet?
One could argue that print advertising is more compelling, or that TV is more immersive, but the disparity is still stark and bodes badly for the newspaper industry.
Nor is there a lot of other good news in the presentation, which notes that internet development in hardware and software has been racing along, powered by a stable and growing economy. The last dozen slides point out that increasing debt and the threat of economic collapse are going to have to slow things down, eventually. ®