Steve Jobs didn't get around to mentioning Safari 5 in his WWDC keynote last night, but it rolled out anyway shortly after he finished up, and today publishers throughout the world are surely beginning to wonder, 'hang on, what's this Reader thing?'
Safari 5 has a nice little button next to the URL that effectively kills the ads, strips off the site's branding and presents the text in nicely-formatted book-style pages.
According to Apple, "Safari Reader removes annoying ads and other visual distractions from online articles... So you get the whole story and nothing but the story." Well thanks Steve, that's a real big help.
The Reader button appears for pages where Safari has figured out you're on a web page with an article. Then if you click on the button the web view is greyed out and drops into the background, and the content of the article is displayed in crisp type on a white background. If the article has illustrations in it these will be picked up, but it seems interactive content might not be. So for example: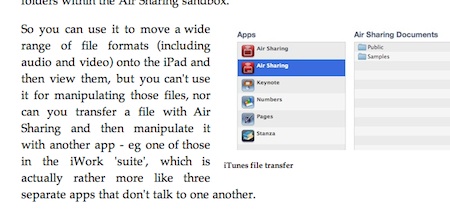 A Reg story in Reader
Reader also reformats multi-page articles into "one continuous, clutter-free view". They still show up as pages, but you just scroll through them vertically. It's not exactly an ad-blocker, because although ads don't appear in the Reader-ized version, the page and all of its ads have to load before the Reader button becomes available. Nor is it possible to to simply enable Reader and browse your way through a Jobsified, minimalist designer web - links do appear in Reader-ized text, and if you click on them you open a normal web page, which then has to load before you can click Reader.
There may of course be legal reasons for this. Yesterday the Pulse RSS reader was booted from the App Store after the New York Times claimed violation of its terms of service. This is what today's NYT lead story looks like in Reader: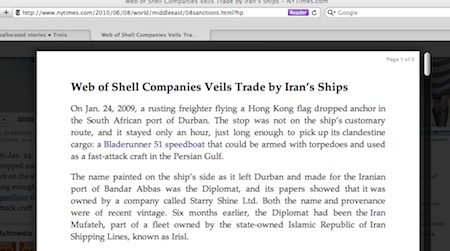 The NYT branding is gone, along with the author's byline, the audio accompanying the story, an interactive graphic, social links, everything really. Looks like it could be a number of violations of the NYT's terms and conditions to us, if Apple were doing it. But Apple didn't press the button… ®