This article is more than 1 year old
Ten Essential World Cup Apps
Android 5, iOS 5
Product Round-up Kick off is mere days away - this coming Friday, no less, with South Africa vs Mexico and Uruguay playing France - so now's the time to get your smartphone loaded up with World Cup goodies.
Whether you'll be watching from home, at a friend's house, down the pub - or even in South Africa itself, here are our ten favourite apps, half of which run on Android and the rest on iOS - as we should now call the operating system running on the iPhone and iPad.
It's a game of two platforms, Barry.
ALK CoPilot Live for South Africa
Like all nations, South Africa has its good parts and its bad. Take a wrong turn in your rental car and a good satnav will be useful in getting back to your hotel or to the match. ALK's CoPliot live offers turn-by-turn navigation for all of South Africa so you shouldn't get lost to start with but if you do at least your phone will get you back on course. In use the system is identical to the UK CoPilot application tested here, though the only "Live" feature on offer is the weather forecast. At £33, it's a worthwhile investment if you plan to do any sightseeing while you down there.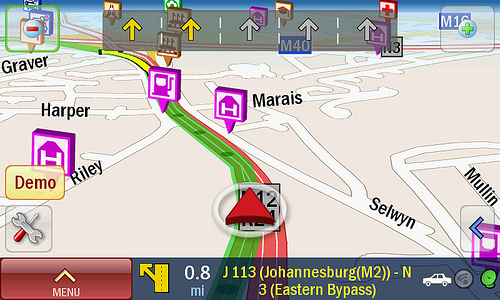 ---

Reg Rating
90%
Platform
Android
Price
£32.99
More Info
ALK
Download


Mandelaisms
Impress the locals with your encyclopaedic knowledge of the great man's bon mots with this handy quotations app that rustles up the sayings of Nelson Mandela at the touch of a screen. Of rather more value than most quotations apps because the source is a man of unusual insight, honesty and character, only a twit would not be moved to contemplation by the wisdom on offer. Some of the quotes may be a bit Utopian, but if a man's reach does not exceed his grasp, what's a heaven for? Each quote also comes with a handy email/SMS/Tweet function so you can spread a little enlightenment.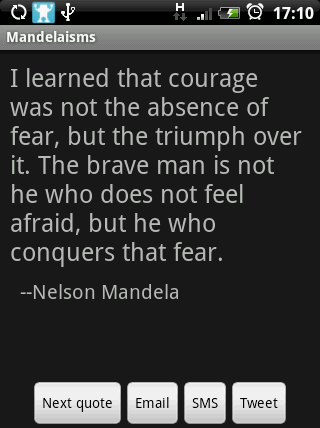 ---

Reg Rating
90%
Platform
Android
Price
Free
More Info
VirtualTechs
Download


Next page:

The Official England App