This article is more than 1 year old
Ten Essential World Cup Apps
Android 5, iOS 5
The Official England App
Like most World Cup apps, the Official England App keeps you up to date on the latest World Cup news, as well as providing info on fixtures and player profiles. However, the advantage of buying this 'official' app developed by the FA is that it has access to video footage from FA.TV – the video channel on the FA's website. This includes behind-the-scenes footage from England training sessions, as well as interviews with Capello, Rooney and co. The only thing I didn't like was the weird chequered background used for text on the news section, which makes your eyes go a bit wobbly.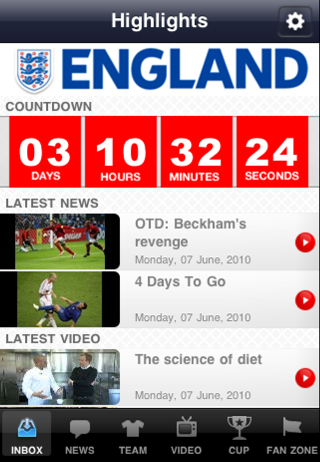 ---

Reg Rating
80%
Platform
iPhone/iPod Touch (iPad-compatible)
Price
£2.99
Download
App Store
More Info
The FA
Sun Football – World Cup Edition
The Sun's football app is a lot like the paper itself: it's packed with eye-catching info-nuggets that are good for browsing through on the train, but a bit lacking in depth - and there's also some very sloppy text formatting that suggests the Sun's publishing system is unfamiliar with the concept of the apostrophe. In addition to the main news section, the app also includes a 'match centre' with live coverage of matches in progress. There's an extensive photo-gallery, a selection of video clips, and a 'wall-chart' that uses the iPhone's touch-controls to let you quickly flick through each set of group matches.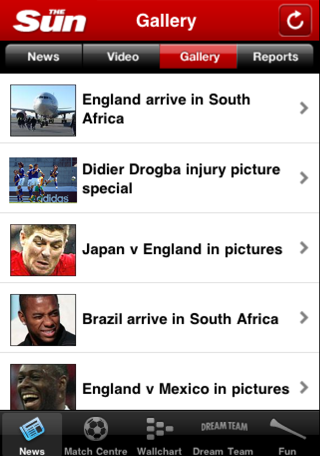 ---

Reg Rating
75%
Platform
iPhone/iPod Touch (iPad-compatible)
Price
£2.39
Download
App Store
More Info
The Sun
Next page:

World Cup Funny Facts