This article is more than 1 year old
Apple releases moving pictures of Steve Jobs keynote
You too can witness reality distortion
Apple today released the full video of Monday's Worldwide Developers Conference keynote, featuring the iPhone 4 as introduced by huckstermeister extraordinaire Steve Jobs.
The video lasts one hour, fifty-two minutes, and forty-six seconds — from the ovation as Jobs enters stage right to the crowd exiting to the strains of Louis Armstrong's "When You're Smiling" from Apple's new FaceTime commercial.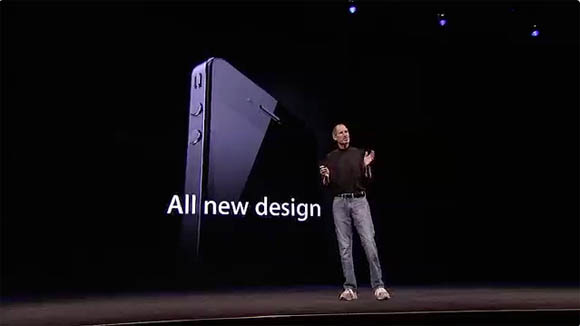 WWDC keynote, starring the iPhone 4 and its BFF
A few highlights:
00:10:28 — Jobs describes how Apple is a champion of HTML5 open standards, how the App Store is a "curated platform", and what Apple's app-approval process is all about.
00:27:22 — Jobs explains his version of the Android versus iPhone market share argument.
00:30:15 — Jobs begins the introduction of the iPhone 4.
00:39:48 — Jobs' comparative iPhone 3GS versus iPhone 4 demo is thwarted by recalitrant Wi-Fi.
00:44:23 — Focusing of the A4 processor, "designed by our own team," and the new gyroscope, Jobs opens up the iPhone 4 to examine its innards.
00:55:09 — Apple video god Randy Ubillos demos iMovie for iPhone.
01:01:21 — Jobs explains why he wants everyone in the audience to turn off their demo-killing Wi-Fi.
01:10:11 — Jobs mentions some of the "enterprise integration" improvements in iOS 4.
01:18:34 — Jobs explains why and how the iAds program will put money in the pockets of developers.
01:28:55 — "One more thing..." as Jobs demos FaceTime iPhone 4–to–iPhone 4 videoconferencing with Jonathan Ive.
01:48:55 — Jobs waxes sincere and sentimental, sums up, thanks the troops, and says: "This is our new baby. I hope you love it as much as we do."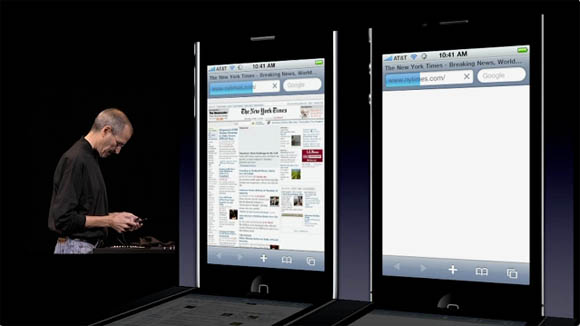 Even the CEO of the Decade is powerless when the demo gods strike
If you've never viewed a Jobsian keynote, we recommend that you carve out some time to watch this one — if only to see a master at work. ®