This article is more than 1 year old
PARIS in cheeky GPS chip slip
Our space plane electronic kit laid bare
Following the recent test of the Paper Aircraft Released Into Space (PARIS) APRS/GPS telemetry transmitter, designed to allow us to track the Vulture 1 space plane as it glides into the history books, we had a couple of emails asking just what electronic wizardry went into this neat piece of kit.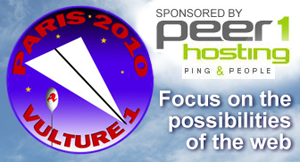 In fact, we have two compact electronic units for our audacious high altitude plan, both supplied by BigRedBee.
The first is a BeeLine Transmitter FM beacon working as a back-up for the main payload GPS tracker unit, details of which you can find here. Greg Clark (callsign K7RKT), explained that it's based on the Chipcon CC1050, and elaborated: "It is a single-chip UHF transmitter designed for very low power and very low voltage wireless applications. It has a maximum output power of +12dBm or about 16 milliwatts.
"The MP model contains an additional amplifier that bumps the output power up to a maximum of 100mw. It is controlled by a PIC 16LF688 from Microchip, and is programmable via a TTL interface. The audio frequency of the beep, the timing of the beeps, and a user defined message that is transmitted via morse code are all programmable and can be modified by the user via a windows computer application. The transmit parameters are saved in non-volatile memory, and reloaded with power is applied."
So now you know. The APRS/GPS telemetry transmitter (pictured below), meanwhile, "uses the same radio design as the BeeLine transmitter, and combines a GPS receiver and data modem".

Greg told us: "The GPS receiver sends the latitude, longitude and altitude to the modem, where it is formated into an industry standard AX.25 APRS data packet and transmitted over the RF link as 1200 baud using 1200/2100 AFSK. This transmitter packet is then decoded by a ground based receiver, again using industry standard amateur radio gear.
"In addition to transmitting the signal over the RF link, the BeeLIne GPS has the ability to store over 1000 data points at a user defined rate, that's almost 2 hours if set to every 5 seconds. The data can then be download to your computer into a Google Earth compatible .kml file."
Good stuff. Those of you with an electronic bent can find schematics of the beacon here (pdf) and the GPS unit here (pdf). There are more details on how our radio man Steve Daniels (callsign G6UIM) set the two up right here. ®
Additional PARIS resources
Our dedicated PARIS section, with all previous updates, is right here.
New to PARIS? We have a basic mission summary here (pdf).
Check out our YouTube channel - currently featuring a few camera tests.