Those of you who've been waiting since the 1960s for that bloody flying car you were promised will be a bit hacked off to learn that Google is already way ahead of we mere mortals when it comes to advanced vehicular technology.
Consider if you will the strange case of the London Orwellian black Opel, seen here making the jump to interdimensional light speed prior to returning through the space/time-busting portal to photograph iteself just moments before it took a handy shortcut from Lower Grosvenor Place: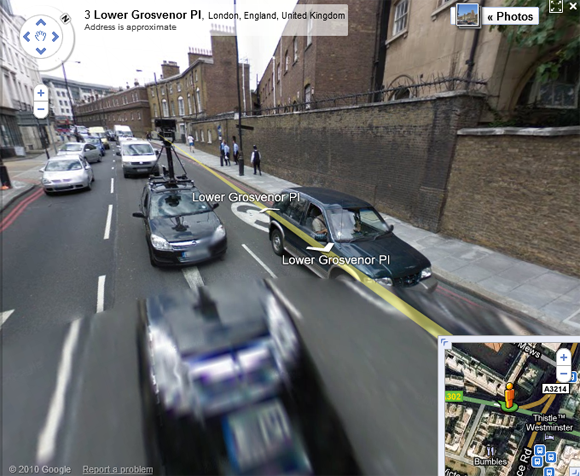 Quite remarkable. This, of course, explains just how the Great Satan of Mountain View was able to bust the privacy of the whole of Europe in such a remarkably short space of time, viz: there's actually just one spymobile with the ability to spatially and geographically shift at the touch of a (presumably large) red button on the dashboard.
The alternative, black-helicopter-free explanation is that the Minions of Brin travel in pairs, the better to repel the unwanted advances of disgruntled Viking frogmen. You decide which truth is the less implausible. ®
Similar topics