The British Library yesterday announced it had acquired the archives of the late JG Ballard, the great English novelist who died last year.
Ballard hated establishment approval, turning down a CBE from Prime Minister Tony Blair in 2003, and would have found his incorporation into the Heritage Industry quite ironic. He told an interviewer in 1982 that "There are no Ballard archives. I never keep letters, reviews, research materials. Every page is a fresh start."
Also, as reader Shaun Rolph reminds us: "Much of his contempt for literary England was provoked by its archival reverence, its love of the rear-view mirror. He dug a hole in his back garden and tried to burn all his old SF mags from the 'fifties."
A press release from the BL touting the news contained something that caught my eye. Listing Ballard's achievements, the Library tells us he "predicted the rise of terrorism against tourists, the alienation of a society obsessed by new technology and ecological disasters such as the melting of the ice caps".
It was echoed in a tweet, from the Library's Head of Media Relations, Strategic Marketing and Communications Miki Lentin.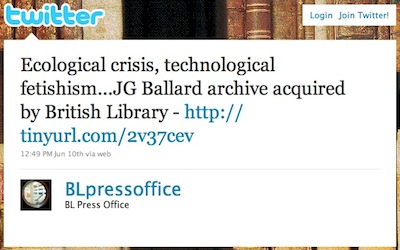 Sort of like Mystic Meg, then.
But is this really true? While disasters recur in Ballard's fiction, the reason they are so vivid, Shaun again reminds us, is "because it's what we really wanted all along". They weren't ecological predictions, or warnings. They explored our desire for apocalypse. If they predicted anything, it was the media's desire for eco-porn, and our thirst for the End Times.
One Ballard novel in particular, Rushing to Paradise, was directly inspired by Greenpeace. In it, an environmentalist cult takes over a Pacific Island, turning to euthanasia to weed out the politically-incorrect. As Ballard told an interviewer at the time:
"Enlightened legislation or enlightened social activity of whatever kind, does play into the hands of people with agendas of their own, with secret agendas. And, of course, if you legalize euthanasia, you provide a field day for people who like killing other people."
Since the dark side of the environmental agenda has always been its creepy obsession with population control, this still rings true.
Strangely, when Will Self (correctly, I think) described JG Ballard's later novels as exploring the origins of fascism, he omitted this one. Funny, that.
This is not promising material for someone wishing to enrol Ballard posthumously as a Warrior For Gaia. But it's 2010, it's a state-funded institution, so every trumpet must give a little toot.
Miki told us via email:
"JG Ballard's writing encompassed topics as diverse as ecological crisis, technological fetishism, urban ruination and suburban mob culture. Therefore, many topics. We were trying to demonstrate the breadth of his literature in 140 characters – not that easy!"
Further comment would be superfluous, really. Although I am tempted to offer a T-shirt for the best Tweet-length summary of any novelists' career, written in the style of a British Library press release. Metamorphosis? Pest control. Moby Dick? Save the Whale! Submissions here please. ®