This article is more than 1 year old
Fujifilm Finepix HS10 bridge camera
Impressive performer
Review Fujifilm's Finepix HS10 is among the new breed of superzoom cameras utilising, the somewhat cheekily named, backside illuminated CMOS sensor technology. At 10.3Mp there is a drop in image size compared to CCD models, but the light gathering capabilities make up for this, apparently. There's even one in the iPhone 4, so if it's good enough for Steve…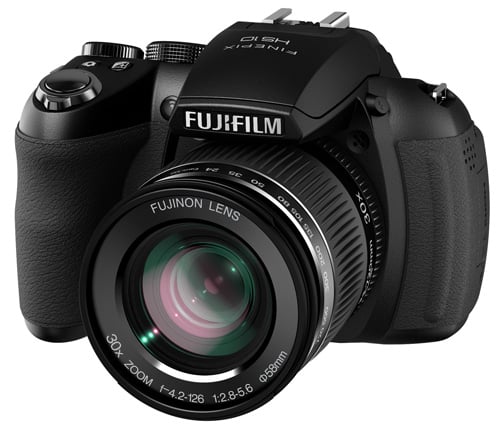 Great shot: Fujifilm Finepix HS10
Unpacking to find the battery and start charging was a surprise. No battery – open compartment make sure it's not already there. Nope, it's batteries, plural – four AA cells are required to get this Finepix functioning. Not unheard of, even the Pentax K-x DSLR relies on them, and it keeps the initial cost down, but you end up paying one way or another.
Even so, AA batteries are readily available, which for some is a selling point, and rechargeable ones can be used, with Sanyo's Eneloops – precharged rechargeables – proving popular with many photographers these days. Fuji suggests more expensive lithium cells can notch up 700 shots on the HS10.
Power struggles aside, first impressions are excellent – the HS10 is a lightweight camera, but somehow its angles have been made more masculine, sharper. It looks like a tank, a high tech tank. While not as small as other similarly priced cameras that have adopted this sensor, it is smaller than its S200EXR sibling, and has certainly been tarted up – with its silver touches, bigger shutter release button, refined menu and paddles – and it works.
Reading the lettering on 30x lens shows 4.2-126mm in new money, equivalent to a 35mm camera zoom of 24-720mm. That is quite an extreme range. Comparing it to the S200 EXR, at full extent the lens protrudes by about the same amount, but is considerably shorter when at wide angle. The diameter is greatly reduced too and again, the ring for manual focus is to the rear of the barrel.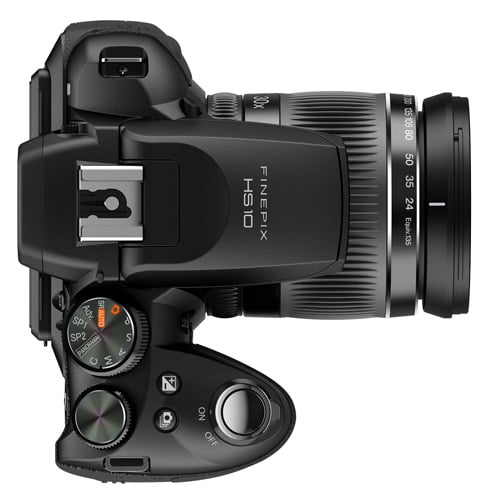 Dials are nicely positioned and easy to operate
As with other Fuji models there is an unmarked dial right next to the Program selector, with a recess for a resting thumb, it fits nicely. Its purpose is for doing all things in program and manual modes, from selecting the EV to stepping through options. Up top is smaller viewfinder than previous versions, undoubtedly not a major feature on these cameras, as everyone seems to use the rear screen nowadays. However, using it instead of the rear screen will certainly save battery life.