This article is more than 1 year old
Fujifilm Finepix HS10 bridge camera
Impressive performer
Speaking of screens though, what a beautiful example that is. At 3in with 230,000 dots, its well defined and once pulled from it's resting place goes every-which way vertically. It works well for low angles, feels sturdy, though a little stiff out of the cellophane, but once used it is very assured and hardy.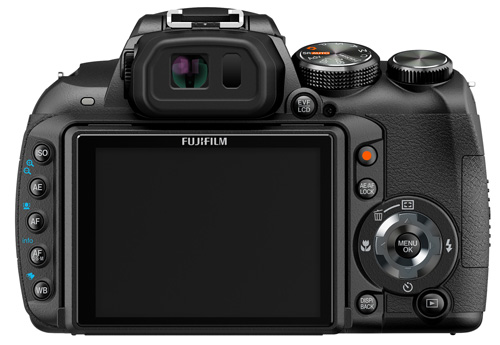 A decent range of in-camera image refinements are available
Down the left hand side is a row of tiny dedicated buttons for ISO, AE, AF and White Balance, enabling swift access to these functions. The arrangement is interesting, as you need to press and hold the buttons for the functions to remain on screen. It makes for a faster workflow, certainly, with face detection button seemingly outgrown on this Finepix and relegated to lurk within menu functions.
Articulating LCD panels aside, another neat touch is the Motion Panorama setting on the dial. Panoramic views can be created by sweeping across a scene to create images up to 5760 x 720 pixels. It works great on static scenes, although confusion can arise if anything is moving in the same direction as the camera during a sweep.
There are also dedicated dial settings for Scene Position: Landscapes and Portraiture. Nice touches, but on the dial you get SP1 and SP2 and you've got to remember which is which. A total auto Scene Recognition mode exists along with P A S M and a custom option for you to program. There are also some novel ideas about removing moving objects (like blurred cars through a scene) or taking multiple exposures into one frame featured in Advanced mode.
Getting the HS10 to switch from 'Flash Off' in a few modes beat me, which is a shame because above ISO 800 you really should be thinking about getting a lighting source involved, as using ISO 6400 on this camera seems to be a bit drastic. At this end of the range it makes a reasonable job of low/no light situations, and even has a setting for cleaning up awkward night time stuff but, if you'll excuse the pun, it's not an area where it shines.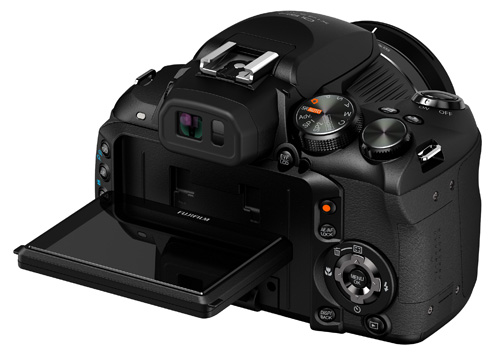 The articulating screen and dedicated function buttons all make for a positive user experience
In FinePix Color mode you get black and white and sepia options that look typically nasty. Whereas the colour shift between standard and chrome settings is actually quite subtle and pleasing. Furthermore, you can fine tune white balance between red and cyan and blue and yellow, which is pretty specific. Colour, tone and sharpness can all have soft, mid and harsh tweaks too. So, all in all, not a bad selection of personalisation functions, really.