Samsung NB30 touchscreen durable netbook
Tough and touchy
---
Review Samsung's range of first generation netbooks consisted of such a bewildering array of similar spec machines that a year on its difficult to remember what the difference was between the N110, N120 and N310. So I had a slight sinking feeling when the NB30 turned up because the basic specification is identical to the N220.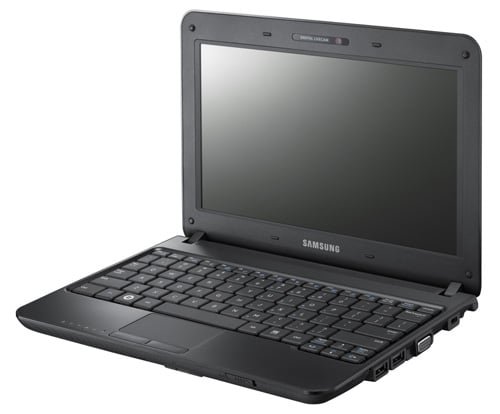 Touchscreen option: Samsung's NB30
Look more closely though and you will see two differences. Firstly the NB30 Touch is an semi-rugged netbook aimed at the careless, the adventurous and school kids. Secondly, it comes with a touchscreen.
The NB30's ruggedness comes in three servings. First and most obvious is the ridged and rubberised casing which provides a greater degree of impact resistance than your typical netbook body. The textured matt covering also has the benefits of not showing up fingerprints and making the body easy to grip.
Secondly, the 250GB hard drive has a free-fall sensor that can detect the sort of sudden downward acceleration – recently associated with the BP's share price – that gives the hard drive time to lock down its moving parts and thereby minimising any chance of them coming into catastrophic contact.
Finally, the keyboard assembly is fitted with a waterproof seal that isolates it from the motherboard meaning that inadvertent liquid spills onto the keyboard deck shouldn't ruin your day. To test this I chucked half a glass of water onto the keyboard, flipped it over to let it drain and immediately began to wonder if Samsung would ever lend me anything again.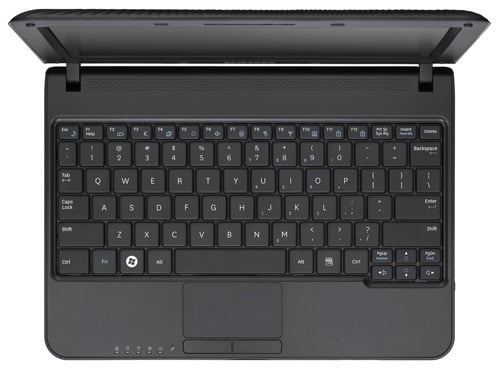 Water resistant keyboard passed the spill test
Thankfully, the NB30 continued to work perfectly. I suspect it may be that water seal that's the cause of the NB30's keys having a rather short and lifeless action, something exaggerated by the flat design of the keys themselves. It's not really any worse than the calculator-style keyboard of the N220, but I prefer the more traditional design found on the Samsung N140 which is one of the best netbook keyboards about. The NB30's track pad and click-bar arrangement is carried over wholesale from the N220.