Panasonic SC-BT735 Blu-ray home cinema kit
Slim stylish AV combo, anyone?
---
Review Well-heeled home cinema devotees like to put together a trustworthy disc player, an amp built like a battleship and classy, carefully chosen speakers. Meanwhile, the budget and mid-range market is catered for by simple one-box packages, which flourished in the DVD era, so it's no surprise to find an increasing number based on Blu-ray.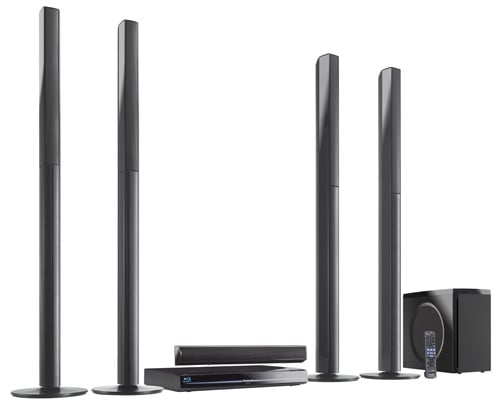 Call me Slim: Panasonic's SC-BT735
The SC-BT735 is at the higher end of Panasonic's home cinema systems. The player is also the amplifier, outputting to five speakers and a passive subwoofer. You could call the stereo and rear surrounds tallboy speakers, but the actual working parts are no larger than the slim centre speaker, the rest is a hollow floor-stand. You can remove the stand and wall-mount them, if necessary.
The speaker cables use Panasonic's own idiot-proof colour coded plugs but you can't change the wiring for something better or longer. With the SH-FX71 add-on you can lose the cabling to the rear speakers – although the wireless receiver kit requires mains power and it costs £99.
The player is a fully-fledged Blu-ray hub that also spins DVDs, CDs and handles DivX video, MP3 and JPEG photos from discs or USB drives (up to 128GB). Its SDXC card reader is geared to camera users too, as it accepts JPEGs, AVC HD footage or standard definition MPEG-2 video. There is an iPod/iPhone dock, with a corresponding on-screen menu, plus an Ethernet port for a limited amount of online content and media streaming from PCs. Another optional add-on (DY-WL10) enables Wi-Fi as an alternative.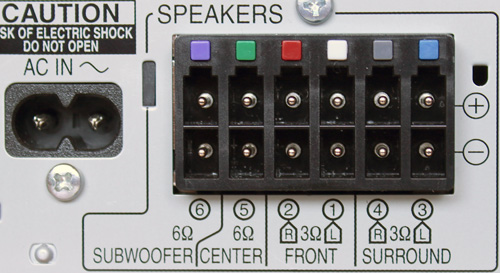 Speaker connectivity is easy to follow, but not so easy to extend
The HDMI output is the latest version 1.4 and includes an audio return channel for piping audio from v1.4-equipped TVs (and connected digiboxes) to the speakers without needing additional audio connections. For video it displays up to 1080p resolution from Blu-ray, AVC HD, DivX HD and upscaled DVD. There is also a movie-friendly 24-frame progressive mode for suitable screens.