Panasonic SC-BT735 Blu-ray home cinema kit
Slim stylish AV combo, anyone?
---
You can see the player working hard when upscaling DVD. The results are impressive, though some minor rippling around edges betrays the standard def origins. I found that the picture adjustments such as Fine mode and detail enhancement – tempting though they may be – exaggerate film grain.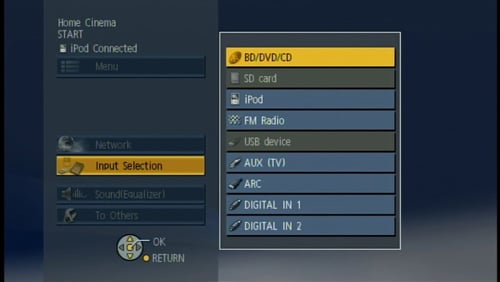 Plenty of input choices
DivX plays very well from USB (including high def versions) but network video streaming didn't work for me, despite trying three different DLNA/UPnP servers, which undermines the 'plug and play' aspect. Photo browsing is fine using plugged-in media, over a local network or from Picasa web albums – available through Panasonic's VieraCast portal along with YouTube. For iPod video, you can only use the lower quality composite output, not HDMI.
Audio streaming from PCs fares better with support for various formats including MP3, AAC, Apple Lossless, WAV, WMA (up to Pro and Lossless) but not FLAC. The results obviously depend on the level of compression.
Verdict
You may get compactness and simplicity from the SC-BT735 and the quality is better than TV speakers or a soundbar, but vocal clarity aside, it doesn't deliver a massive audio improvement over slightly cheaper counterparts. You can get the same strong picture quality from a standalone player costing a quarter of the price, enabling you to choose any amp and speaker package with the flexibility of changing the player later (perhaps to 3D) without ditching other components. ®
More Blu-ray Gear Reviews…

Sony
BDV-E370
Cambridge Audio
Azur 650BD
Toshiba
BDX2000
HDI
Dune BD Prime

Panasonic SC-BT735 Blu-ray home cinema kit
Blu-ray and multimedia player with network connectivity and attached 5.1 home cinema surround sound system.