Dell's latest celebrity endorser - Kim Jong Il
Dude you've got a dictator
---
Dell has snagged a seriously high profile celebrity endorser whose name is whispered in the corridors of powers and who has millions of people hanging on his every word.
The bad news is that it's North Korea's tiny terror Kim Jong Il.
North Korea's much-beloved autocrat is well known for his love of the finer things in life - brandy, sushi, Segways - all of which US sanctions declare he shouldn't be able to access.
Now Michael Dell can congratulate himself on joining that storied list, whether he likes it or not.
In fact, the Dear Leader has been pictured twice in just the last month lovingly caressing Dell-branded kit.
Here we see him on May 22 offering "Field Guidance to Hamhung University of Chemical Engineering", according to one North Korean state organ.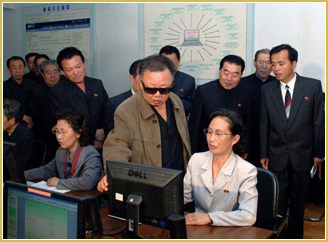 Have you tried turning it off and on again?
The government run website tells us that:
Looking round the laboratories built on the highest level as required by the IT era and other educational facilities, he expressed satisfaction as the university has better facelifted its appearance with a comprehensive character.
Fair enough. Our comprehensive was not dissimilar, and some teachers shared a similar outlook to the NK cadres.
Funding is no object apparently.
The WPK spares nothing for the education of the rising generation as it is an important matter decisive of the future of the nation but takes its delight and pride from there, he said.
Spares nothing indeed, as he has clearly made sure the facility is chock-full of the finest super computing kit courtesy of, if unwittingly, that other Dear Leader, Michael Dell
But this wasn't the Texan computing powerhouse's only bit of Kim Jong Il endorsement last month. Just a few weeks before, the pint-sized tyrant gave another chunk of Dell kit a good working over on a visit to Beijing Boao Biotech Co. Ltd in Beijing.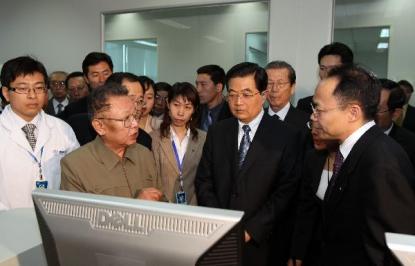 No, I can't wait for delivery. I start bombing in June.
In fact Kim's liking for Dell kit goes back even further, as this security blog demonstrates.
So, perhaps, Kim's latest trip to China may have had nothing to do with regional diplomacy and more to do with checking out Dell's latest wares - and possibly picking up the kit on the grey market.
Because, of course, computers, like virtually everything else that makes modern life bearable for us decadent capitalist running dogs are all on the forbidden list for North Korea. As are Segways which are less of an essential for us lazy Westerners.
The US government has a long list of countries who are not allowed to import US hi-tech for fear it would find its way into weapons programs. The restrictions on North Korea are even tighter, with organisations forbidden to export virtually anything to the benighted country, bar food and some medicines under licence.
So even if Dell wanted to carve out a new sales territory above the 38th parallel - which we're pretty sure it doesn't - Uncle Sam would hit it with a big fat no.
Still, should Dell be worried about its status in the world's top brands list, it can rest assured that it's now at the top of Kimy's shopping list, along with Rolex, Harley Davidson, Hennessy XO Cognac, Johhny Walker, and Whitney Houston's The Bodyguard. ®
Similar topics
Broader topics