Free open source satnav comes to UK iPhones
Skobbler arrives
---
Skobbler, the no-cost open source satnav app, is now available to UK iPhone owners.
In its native Germany, the app has been the most downloaded program of its kind for the last six months, the developer - also called Skobbler - claimed.
Skobbler's pitch is providing turn-by-turn navigation based on maps sourced from OpenStreetMap, a set of user-generated charts that hundreds of thousands of folk around the world keep up to date.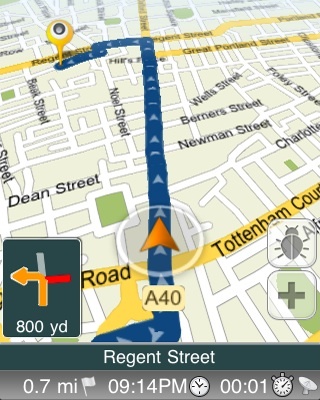 Skobbler describes OpenStreetMap as the "Wikipedia of maps" which is broadly correct but also problematic. Wikipedia hasn't avoided issues of inaccuracy in its user-generated articles, and the same may prove true of OpenStreetMap's plans.
Still, many of the professionally produced maps that Reg Hardware has sampled in its many satnav reviews can prove to be out-of-date in certain areas, despite claims that every new device uses "the latest" maps available.
And Skobbler has much to recommend it: it works like every other satnav app, supports iPod music playback while it's running, and will automatically pick-up navigation duties after the completion of the call you just took - though hopefully, this will be less of a necessity when the multi-tasking (sort or) iOS 4 is released later this month.
More to the point Skobbler is free - or you can pay £1.19 for a (presumably) ads-free version. You can download it here, and it requires an iPhone 3G or later. ®