Apple Store iPhone app promises buyer's remorse
Jobsian kit impulse buy? There's an app for that
Apple has released an iPhone app that allows US users to access its online store to puchase items, schedule appointments at its brick-and-mortar stores, read product reviews — and spend money very, very easily.
Although the prosaically named Apple Store app appears to be rich in detail, deep in content and offerings, and a convenient way to schedule Genius Bar, Personal Shopping, and One to One appointment, plus finding out when workshops and events are occuring at each and every US store, its release today begs three questions:
What took Apple so long?
Why no iPad version?
Why release it on the day that iPhone preorders brought Apple's online store to its knees?
That first question is truly puzzling. Apple-developed iPhone apps have been around since the first iPhones were snapped up by eager customers in June 2007. The App Store itself debuted just under two years ago. And yet Apple waited until now to provide its fervent followers with a handy way to make impulse purchases of iPod Socks.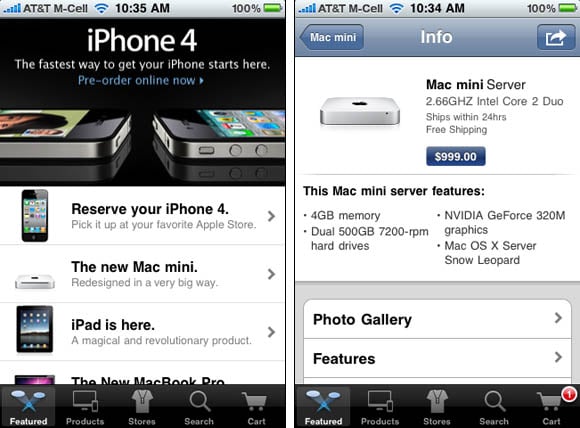 The iPhone app is up-to-date with today's Mac Mini release, and the iPad remains both magical and revolutionary
Then there's the only-on-iPhone question: if owners of the "magical and revolutionary" iPad want to buy said Socks from the Apple store, they'll have to run the iPhone app or go surfing to the online store in Safari — Apple hasn't chosen to release an iPad version of the Apple Store app that takes advantage of the Jobsian tablet's screen acreage.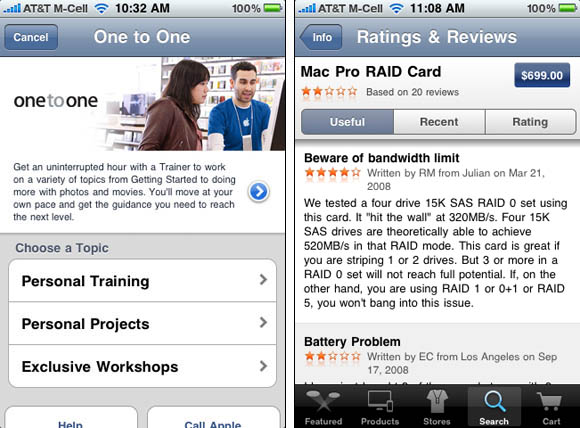 Make appointments with paid Geniuses (left), or dig through reviews written by volunteer ones
Finally, Apple chose to release the new app on a day when its online store buckled under the load of iPhone 4 orders — or, as a cynic might propose, when it was intentionally choked to hype demand for the Jobsian "biggest leap".
Users of the iPhone app fared no better early Tuesday when trying to preorder an iPhone 4 than did those accessing Apple's online store using Safari on their Macs or iPads: a "There was a problem connecting..." error message instructed them to high-tail it to a brick-and-mortar store, instead.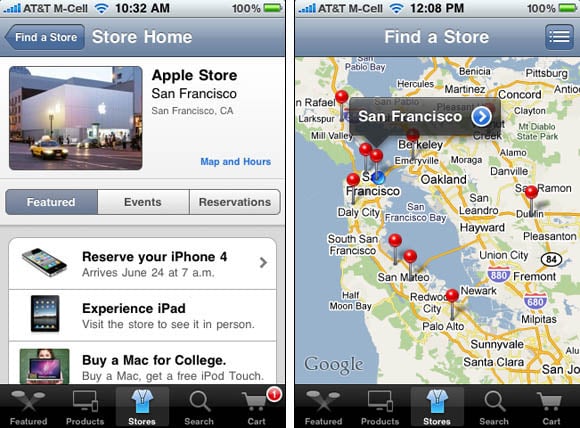 Visit your local store (left) after finding it in text-based search or selecting it in a geolocation-aided map
Purchases in the Apple Store app are made using your iTunes account — and, yes, it's as easy to overspend by quick-click impulse as it is when buying music or iPhone/Pod/Pad apps. ®