Ordered your iPhone 4 yet? Tough - you've already missed the boat, if this afternoon's latest missive from Apple is to be believed.
The firm's online emporium has been creaking all day since it started offering the faithful the chance to pre-order the iPhone 4.
One Reg reader reported that it took him just under two hours to order the phone of his dreams. Clearly he has a very understanding boss.
Shortly after lunch though, the more lackadaisical fanbois acting on Apple's 'reserve your iPhone' email got the message below. Yes, 16GB or 32GB, black or white, they're all "unavailable".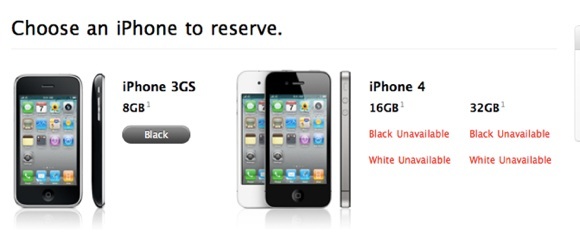 Luckily, if you race back to the website it appears the not at all obscure object of their desire is available after all.
So, first Apple says the iPhone 4 is available, but declines to put in place a system capable of taking orders. Then it emails its known customers, but they already can't reserve it. Then it makes it available after all.
The genius of Cupertino is clearly beyond our ken. ®