Murdoch hedges bets with e-reader purchase
One can never have too many platforms
Rupert Murdoch's News Corp has bought the software platform designed for the Skiff e-reader, but dropped the hardware which will likely never see the light of day.
The Skiff was probably the biggest e-reader ever demonstrated, with a screen knocking 30cm diagonally and aimed squarely at laying out newspapers. The company, which was set up by Hearst, spent a great deal of effort working on layout and distribution mechanisms, and it's those that News Corporation has bought, leaving the hardware unloved and homeless.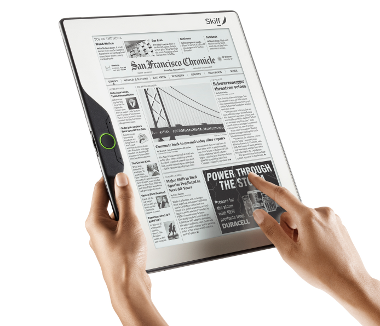 Another e-reader fails to make it beyond the prototype stage
Skiff was developed and owned by Hearst and demonstrated with Sprint as the future of publishing, but e-reader hardware is rapidly becoming commoditised, and these days everyone wants to be in service provision where the margins are better and the Chinese competition less well placed.
News Corporation hasn't always backed winners in the past, pouring money into MySpace among other things, but a platform for distributing and displaying copyrighted content is closer to its core business, even if it's only one of several such platforms with which the company is involved.
Next Issue Media is the cross-publisher platform News Corp is signed up to, and the company has also announced an investment in the subscription-based Journalism Online service. No one can accuse Murdoch of not keeping the bases covered.
News Corporation has decided that if readers want journalism then they're going to have to pay for it, but the company isn't ready to bet on which technology should manage that. Adobe has big plans for periodicals - its Digital Editions platform is still a front runner in eBooks and it recently announced it was behind the Wired iPad edition. But it must make money from the distribution platform, which could make an in-house option like Skiff more attractive.
The hardware, meanwhile, remains unattractive - Hearst is reportedly trying to sell it off to someone else, but who'd buy an e-reader these days? ®