Newsweek: 'Zombies rise from grave, invade US'
Konami cheat code infests ageing news organ
---
An army of zombies has invaded America, according to Newsweek.
"The undead have risen from their graves and invaded large portions of the East Coast," the venerable American news publication has reported on its website, Newsweek.com. "Driven only by an insatiable desire for brains, there seems to be no stopping their ruthless push forward."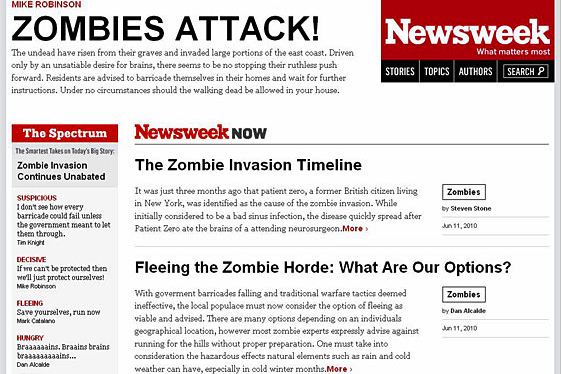 But don't get too excited. It's just a ruse. The undead haven't risen from the grave. And the brains of east coast America are in working order – except for a few employed in the IT department at Newsweek.
On Monday, as noticed by New York Magazine and others, all sorts of zombie news rose from the dead if you keyed the old Konami cheat code into the Newsweek website. That's "↑, ↑, ↓, ↓, ←, →, ←, →, B, A, Enter," which let you cheat on video games offered by the Japanese software maker dating back to the mid-1980s. But this wasn't a hack. Newsweek has now admitted that its developers were having a laugh.
"It's true that our programmers had a bit of fun and hid the Konami Easter egg in the site," a Newsweek spokesperson told New York Magazine. "It does not affect the rest of the site's functionality. Now that we've all had a laugh, we will be removing it."
This is hardly unusual behavior. ESPN.com developers did much the same thing on April Fools' Day 2009, attacking the site with an army of unicorns. But it just goes to show you that even the most uptight news organization can wind up with Easter Egg on its face.
If you're feeling mischievous, you can find the Konami code JavaScript here. ®