This article is more than 1 year old
Sony Vaio P netbook
Highly portable and highly priced
Review Sony manages to conjure up some lovely pieces of kit, but it also has a tendency to slap outrageous price tags on them. And this was no more apparent than when it launched the Vaio P-Series last year.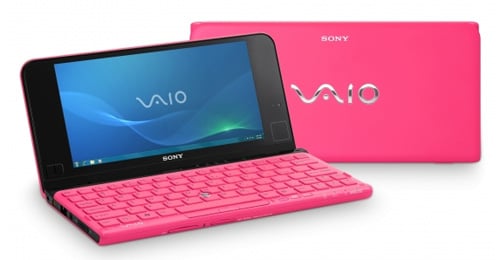 Sony's Vaio P: small, light, but darned expensive
Small and sexy, the original P-Series was designed to appeal to affluent types who wanted to join in the netbook revolution but couldn't stomach spending less than £300. Since then, Sony has bowed to pressure and released a more traditionally-priced netbook in the form of the Vaio M Atom. However, it still appears to have faith in the P-Series, and has just launched a new model.
This time round it's a bit more affordable, but at £799 the VPCP11S1E is still pretty darn expensive. The design is even more enticing than its predecessor, though, and with smooth, curved edges it looks and feels great. I was sent the rather garish pink version, but thankfully other colours are available.
The unit is powered by an Intel Atom Z540, which is clocked at 1.86GHz and has 2GB of DDR3 memory at its disposal. Graphics are handled by Intel's GMA 500.
With its 8in display having an ultra-widescreen resolution of 1,600 x 768, the VPCP11S1E takes on a very elongated appearance. Sony would like you to think it'll slip nicely into a coat pocket, but at 245mm long and 120mm wide that pocket will need to be fairly capacious. However, measuring just 20mm thick, it's incredibly slim and weighs a mere 632g.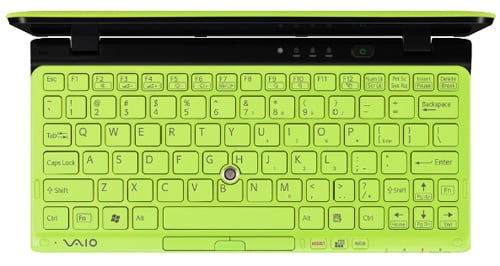 The keyboard is surprisingly finger friendly
Flip open the lid, and a surprisingly large and easy-to-use keyboard comes into view. There's no trackpad, but Sony does offer two alternatives. The first is a trackpoint that sits just above the 'B' key – this is used in conjunction with the three buttons below the space bar.