Sony Vaio P netbook
Highly portable and highly priced
---
Although it doesn't appear to add much in terms of performance, this SSD (a Sandisk pSSD-P2 model) combined with the total lack of fans means the laptop is silent. It does, however, get pretty warm on the underside of the chassis after around 15 minutes of use. The VPCP11S1E can be booted into the included Linux-based Splashtop OS. This boots in around 30 seconds, but all it really offers is a web browser so is of limited use.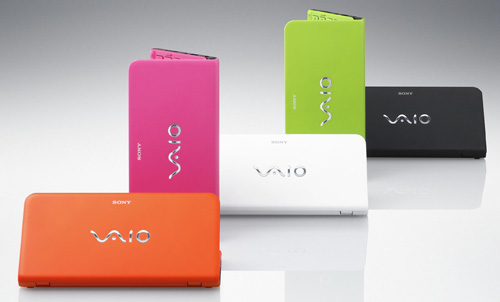 Irresistible? Pink, orange, green, black or white – the choice is yours
Curious as to how the VPCP11S1E copes under Linux, I installed the Ubuntu Netbook Remix. Things didn't get off to good start when it failed to recognise both the trackpoint and touchpad, meaning an external mouse had to be attached. It also ran like a dog, which is most likely down to the Intel GMA 500 graphics, and crashed on more than one occasion. If you've plenty of spare time these issues can probably be solved, but anyone hoping for an easy Ubuntu install will be left sorely disappointed.
Given the small chassis, it's no surprise to find the battery is a measly 19Wh model, but when running PCMark05 in a loop it coped reasonably well, ticking along for five minutes short of the two hour mark. Indulge in a bit of 3G or GPS activity, and this figure will drop significantly. Finally, it's worth mentioning that the VPCP11S1E isn't best suited to upgrades. With no screws in sight, you'd probably need to tear out the four rubber feet if you ever wanted to access the internals.
Verdict
The VPCP11S1E might be small and have an Atom processor, but it's most definitely not a netbook. No, this is a luxury device aimed at those who are happy to pay a premium for something that's a bit different. And it certainly has a lot going for it, not least built-in 3G and GPS, along with its ultra-lightweight design. The keyboard also impresses, but using the trackpoint and/or mini touchpad can be tricky, while the high resolution 8in screen isn't particularly easy on the eye. Moreover, I suspect most Reg readers, myself included, would shudder at the thought of splashing out £800 on such an under-powered device, no matter how pretty it might be.
More Netbook Reviews…

Samsung
NB30
Touch
MSI
Wind
U160
Sony
Vaio M
Dell
Mini 10

Sony Vaio P netbook
Compact netbook for those inclined to spend a little extra for a dash of style.