Synology DiskStation DS410 Nas box
Box clever
---
Review Synology's DS410 is a four drive Nas aimed at the small business market – or home use if overkill is your thing – with claimed read speeds of up to 110MB/s in RAID 5 whilst keeping power consumption down to 56W.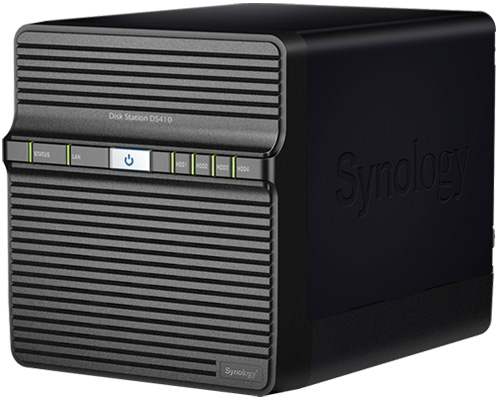 Synology's DiskStation DS410 four-bay Nas
Initial impressions are as expected, a high build quality coupled with a pleasing front panel design incorporating an informative row of status LEDs. Drive installation is somewhat more complicated than other Nas boxes, which use screw-less tray systems, but what are a few screws in a system not designed for hotswapping?
Although it's intended for small business use, there are certainly users out there who use devices such as this in their homes. Indeed, the DS410 has a relatively small footprint at 168 x 184 x 230mm and is certainly not intrusive.
Acoustically, Synology claims noise levels to be around 23dBA and in use the device is fairly inaudible above the ordinary operating noise of other equipment. However, in the home it'll be enough to become irritating if you live in a studio flat and are running overnight.
If you are more concerned about the power drain related to extended runtime than noise, don't panic – as claimed, the DS410 does indeed draw very little power, consistently using under 55W during testing, although the hibernation figures of around 20W certainly leave room for improvement. For those who are iPhone, iPod Touch or iPad users, there are three remote management applications: DS Audio (Audio Station), DS Photo (Photo Station) and DS Cam (Surveillance Station) all of which are free on the iTunes App Store.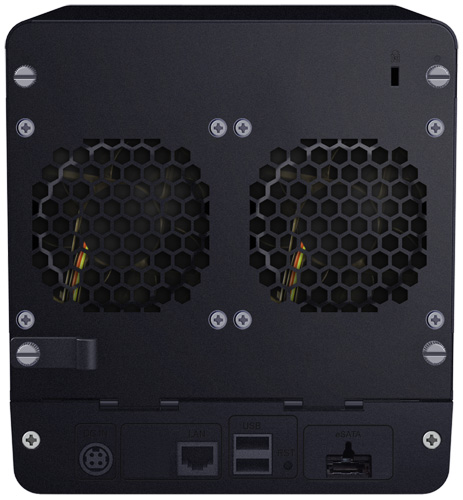 Interfacing includes an eSata port for expansion options
These apps hook up to the DS410 using Synology's DiskStation Manager 2.3 firmware, which powers most of its current product line. It is this core firmware and application set which gives the DS410 a host of wonderful features such as HTTP/FTP servers (with PHP & MySQL support), DLNA and iTunes media streaming, and in-browser tools such as a music manager (Audio Station 2), BitTorrent/eMule/NZB Client (Download Station 2) and file manager (File Station 3).