Synology DiskStation DS410 Nas box
Box clever
---
Thus, without having an ultra fast disk to push the limits of the device, the DS410 nevertheless performs well, giving what are still highly competitive results. Kit one of these out with quad SSDs in RAID 5 and it'll take off. For those of you who are torn between saving a bit of cash and buying something along the lines of the DS410's little two-drive sibling, the DS210j – check out the comparison graphs that clearly show that bigger is better. You can also view the spec here.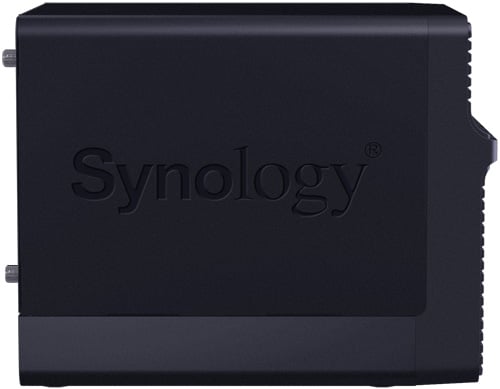 Very capable, but performance will always depend on the drives you use
Whilst it doesn't live up to Synology's lofty claims in terms of real-world performance, the DS410 still offers a competitive edge when it comes to speed and has one of the most comprehensive feature sets available on a Nas box. Combine this with Synology's reputation for building rock-solid quality products and you've got yourself one of the best business grade Nas boxes to be had for under £400.
Considering the DS210j (which runs the same software) can be had with half the storage for about half the price, £200 more for two more drive bays might seem a bit steep. Yet the DS410 also packs in 512MB of Ram, a Freescale MPC8533E 1.06GHz CPU and eSATA; a fair amount more than its lesser sibling.
Verdict
If you're in need of an 8TB storage capability, an exhaustive feature set and want to choose the disks that occupy your Nas box, then the Synology DS410 is certainly worth checking out. Just be sure to buy some drives to go in your £400 investment. ®
More Nas Box Reviews…

Iomega
StorCenter
ix2-200
Acer
Easystore
H340
Asus
Home Server
TS Mini
Netgear
ReadyNas
NVX

Synology DiskStation DS410 Nas box
Comprehensive four-bay Nas box for home and business.
Price:
£400 (no disks) RRP