Microsoft has inked a deal with arch-nemesis Opera Software, convincing the Norwegians to make Bing one of the, um, "default search engine choices" on their latest desktop browser.
It's true. You can see for yourself by downloading the new Opera 10.60 beta here.
As announced by Microsoft Bing general manager Jon Tinter, this means that Bing has been added to the pull-down menu that changes the engine behind the search box in the top right hand corner of the browser. Yes, Google is still the default default search engine — i.e., if you start typing into the search box as is, you search Google.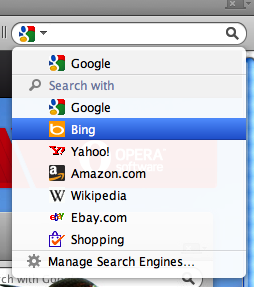 Opera's new search box pull-down gets Binged
Nonetheless, the change is worth noting — if only because this is Opera. Opera is the company that complained to EU over Microsoft bundling Internet Explorer with Windows and sparked a probe that eventually led to the famous EU browser ballot screen.
A little birdie tells us that he noticed Bing in a previous version of Opera — but it didn't work. We never noticed this in our own pre-10.60 beta. But we wouldn't put it past the Norwegians.
You also notice that with Opera 10.60, Bing is the default default search engine on the browser's "speed dial" page, which pops up when you create a new tab.
Opera didn't mention Bing in its press release or any of the many posts announcing Opera 10.60, which arrived on Wednesday – though the Norwegians did discuss the addition of Bing to the speed dial page in announcing a new developer build earlier this week. Meanwhile, Tinter and Microsoft were more than happy to trumpet the news to world+dog. "It's great to see Bing as a choice within another of the major browser products out there, and we hope all you Opera fans out there will go get the beta and give Bing a try," he said.
If you hadn't noticed, Microsoft is changing. Somewhere along the way, it realized it better start playing nicely with many of those it hasn't played nicely with the past.
Does that mean we'll see Bing in Firefox? Don't count on it — though Mozilla man Asa Dotzler recently urged Firefox users to switch to Bing after Google boss Eric Schmidt told the world that net privacy was only for miscreants. There's an even greater history of animosity between Mozilla and Microsoft.
Bing is already an search-box option on the latest Apple Safari browser, version 5, the one with the "make web go away" button. And it's on option on Chrome — though Chrome doesn't have a search box per se. It melds the browser search box and its address bar — i.e., if start keying random words into what appears to be the address bar, the browser lets you instantly search on the those words. Of course, the default search engine is Google, but you can swap it to Yahoo! or Bing. ®