Opera has released a public beta of its next browser release, 10.6 - featuring support for royalty-free WebM video and HTML5 offline web apps. This will be the next major milestone for Linux and BSD users, since Opera is skipping an official 10.5 release for those platforms.
Opera claims the JavaScript engine is up to 75 per cent faster. We haven't benchmarked it, but it certainly feels noticeably more responsive. The speed crown changes hands almost monthly these days.
On older hardware it may not matter so much as the overall responsiveness and browser memory footprint. Working on constrained (translation: decrepit) hardware recently it was noticeable how much faster Google's Chrome browser was overall.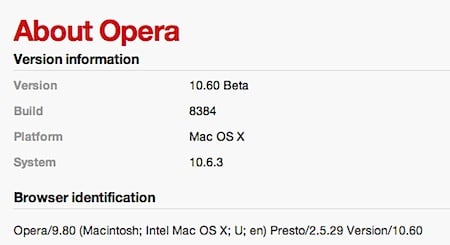 Opera split the release schedule of the various platform releases for the first time earlier this year, as it rushed out a Windows version of 10.5 for the Windows "browser ballot" for which it had lobbied. This left the Mac and (especially) Linux versions lagging a little. Both have greater use of native widgets in the 10.5+ builds.
You can try an example of the offline app here (It didn't work for me on the Mac version) and WebM video here: watch as Norwegian youths run riot through the streets.
The 10.6 release also adds geolocation and a few more UI tweaks.
The beta can be found here - it doesn't bugger up your existing settings - and read more about the changes at the Dev Blog.®
Similar topics