This article is more than 1 year old
YouTube adds video editor for noobs
It's a snip
YouTube has added a video editor — or at least a video trimmer.
The Reg was tipped to this development by the unofficial Google Operating System blog. As of Wednesday, the editor trimmer was available here, but after editing our first video, that clip's description read: "I created this video at http://www.youtube.com/editor".
A YouTube spokesman told The Reg that Mountain View was in the process of getting the Video Editor up and running today, and that it should be available globally by Wednesday evening, Pacific time, on YouTube's TestTube projects-in-progress page. Perhaps when it exits its TestTube phase, it'll reside at that prewired http://www.youtube.com/editor URL.
"We really just wanted to create a simple, easy-to-use, cloud-based video editor," the spokesman told us. "Using a simple, drag and drop interface, our goal was to make Video Editor easily accessibly to any user and his or her basic editing needs. In addition to pulling together different videos and trimming them, users can also add music to their videos from our AudioSwap library of thousands of pre-cleared tracks."
And, of course, YouTube being Google and Google being cloudy, the spokesman touted the wonders of the cloud: "Because [the Video Editor] is in the cloud, users will be able to benefit from real-time updates as we iterate and improve upon the product over time."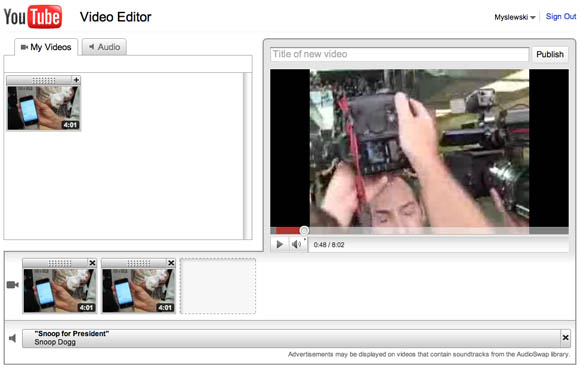 The YouTube Video Editor's bare-bones user interface
The trimmer is simplicity itself. You merely drag a video that you have previously uploaded to YouTube from a My Videos pane into a video timeline, click a scissors icon that appears on top of it, and the video then opens in a new window above your browser. There you drag trimming bars on either side of the timeline to your chosen trimming points, fine-tune the trim with forward and back arrows, click Save, and the video is added to your My Videos collection.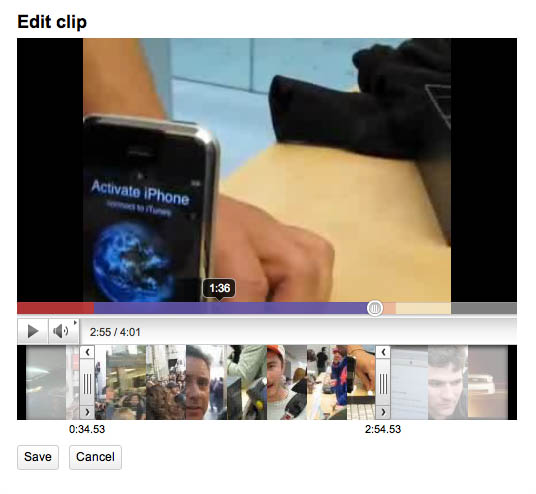 Simply slide trimmer bars to, uh, trim
Before your video becomes available for viewing, however, it needs to be processed up there in the cloud, an operation that currently takes a hefty chunk of time: our three-minute-plus test video was still processing two hours after we completed our trims. So much for the awesome power of the cloud — although we can only assume that GooTube will throw more processing cycles at the service after it emerges from the TestTube.

Processing your trimmed video is currently a patience-testing chore — two hours later, we were still waiting
In addition to the trimmer's rudimentary editing capabilities, you can also add audio from a vast AudioSwap library of tunes, which range from Bach to Snoop Dogg. Unfortunately, you can't mix your own audio with the AudioSwap tunes, and if you add a tune, your original audio is permanently replaced. Also, if you choose to use AudioSwap tunes, the trimmer warns you that "Advertisements may be displayed."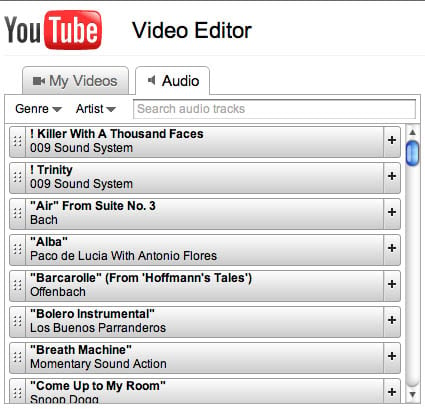 The number of AudioSwap tunes is impressive — we stopped counting after 500, and there were plenty more
If you've edited video before on your Mac or PC, you won't be impressed by the YouTube Video Editor's über-basic capabilities. But for casual users who simply want to snip off chunks of homemade clips, this cloud-based service might be perfectly sufficient. ®