Killer piranha stalk Folkestone pond
Angler has narrow escape from razor teeth of death
Experts fear Britain could be facing a deadly invasion of killer piranha after a Kent angler hooked one of the Amazonian fang-fish in a Folkestone pond - thousands of miles from its natural habitat where gangs of them regularly strip the flesh from their victims in a terrifying frenzy of teeth and foaming water.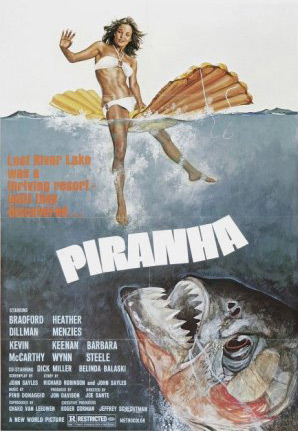 That's according to the Sun, which reports that 46-year-old Derek Plum narrowly avoided having his arm taken off by a 1lb 4oz piscine death machine in the town's Radnor Park.
A shaken Plum recounted: "I felt an almighty tug on my rod* - next thing I knew it had dragged my line about 500 yards. It was going all over the place. It took me about 15 minutes to reel it in. When it emerged it was thrashing around and was going crazy.
"The other fishermen were yelling, 'You've caught a piranha'. I couldn't believe it. Luckily, the fishing hook had fallen out of its mouth otherwise I would had somehow had to remove it myself."
Indeed, the Sun has a video of the beast here, identified as "the most dangerous" red-bellied kind of piranha, and it's fair to say the cameraman was lucky not to have been relieved of his face by the thrashing fish of fury.
The Sun notes that local anglers "reported seeing a man dumping fish from a bucket into the pond last week", which points to a potential breeding colony.
This, of course, offers the chilling possibility that red-bellied piranha could ultimately colonise British waterways. Ben Weir of Angler's Mail doomwatched: "If more than one was released there's no reason why others haven't survived and gone on to breed. It's worrying."
The red-bellied piranha (Pygocentrus nattereri) has a fearsome reputation, thanks largely to Joe Dante. Although it can legendarily reduce large animals to skeletal remains in the blink of an eye, it generally feeds on insects, worms and other fish. ®
* Moderatrix double-entendre note: Yes, yes. I bet you've got something terrifically funny to say about that. Please do share it with the class.