Apple's fresh Mac mini stripped naked
Jobs' baby bared
Apple's new Mac mini, announced on Tuesday, is simple to open, easy to upgrade, and requires an exceptionally small amount of power — a mere 10 watts at idle.
Such were some of the discoveries made by the intrepid kit-disassemblers, parts-suppliers, and crackerjack troubleshooters at iFixIt in their tear-down of Apple's long-awaited — overdue? — revamp of the company's itsy-bitsy desktop.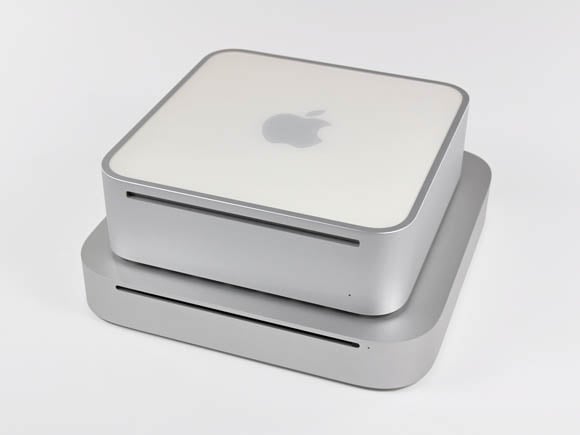 The past on top, the present and future below.
The new Mac mini is flatter than its venerable ancestor, whose form factor hadn't changed since it was introduced in January 2005. How long ago was that? Well, the original Mac mini was powered by a 1.25GHz PowerPC G4 processor and had 256MB of 333MHz DDR SDRAM, that's how long ago.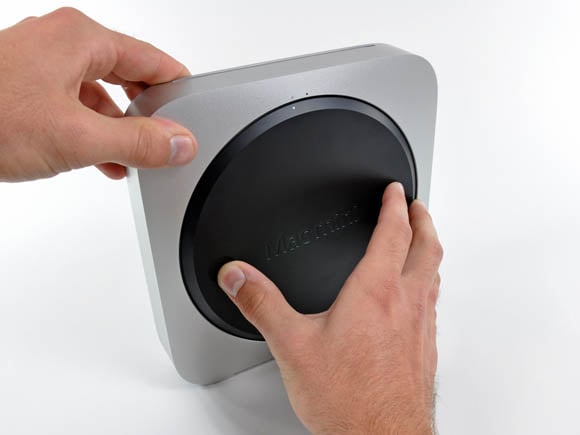 Gone are the days of the putty-knife break-in — the new Mac mini is easy to open
The old Mac mini was no snap to open — it required the careful application of a putty knife to 'sproing' the case's plastic tabs loose before you could pop off the top. The new Mac mini, in contrast, has been designed to be opened with ease — just rotate the case's bottom access plate a few degrees, and you're in.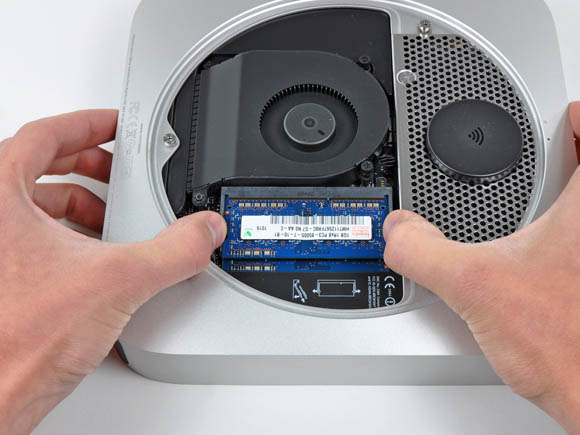 RAM slots are easy to access, and RAM upgrades are cheap (though not from Apple)
Apple has also made installing RAM in the new Mac mini a simple task — it ships with 2GB of RAM, but its two SO-DIMM slots can accept up to 8GB. Newer Technology charges a mere $249.99 for an 8GB upgrade, but Apple wants $500.
Third-party RAM being inexpensive, it's a good thing that easy DIY RAM upgrades are becoming common in Apple products. Well, in Apple's Macs at least — upgrading your RAM or storage in your iPad is well-nigh impossible without an EE degree.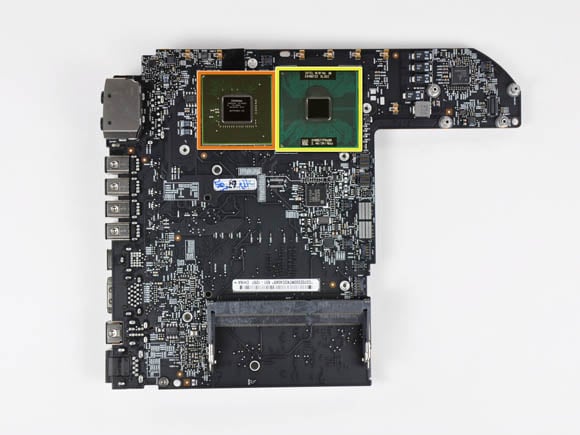 We've come a long way from a 1.25GHz PowerPC G4 accompanied by an ATI Radeon 9200 GPU
The new Mac mini's compact L-shaped logic board comes equipped with an Intel P8600 2.4GHz Core 2 Duo CPU (yellow box) and an Nvidia GeForce 320M GPU (orange box). This is definitely not a high-end gaming rig.
The logic board and all the rest of the Mac mini's components are powered by an internal power supply, not a brick as in previous models. The power supple, according to iFixIt, puts out a mere 7 amps at 12V, and consumes a tiny 10 watts at idle.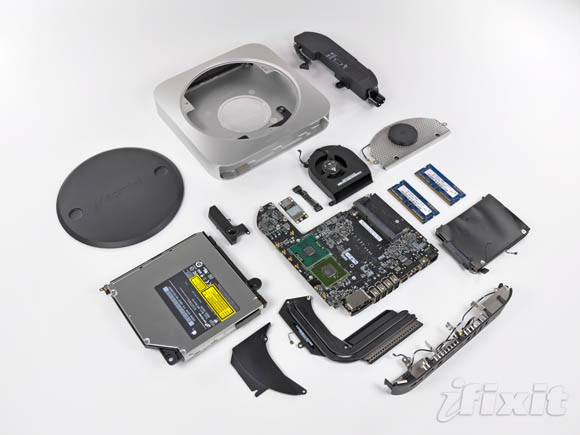 The bride stripped bare by her bachelors, even
The new Mac mini takes the same "unibody" approach as does Apple's current MacBook line — all of its guts either slide in and out of it through the back plane, or can be removed through the circular bottom access plate.
For more pictures from iFixIt's tear-down — a total of 45 — you can view the entire vivisection here. Or if you'd prefer to view it in a text-lite slideshow accompanied by some easy-listening guitar and synth, just watch the video below. ®