iPad gouges netbook sales
Punters keep taking the tablets
Tablets look set to displace the netbook, if figures from market watcher DisplaySearch are to be believed.
DisplaySearch tracks all mobile computer sales, from netbooks through ultra-portables right the way up to desktop replacement behemoths.
The telling figures are netbooks' share of the overall mobile computer market. According to DisplaySearch's data, this rose from just under 14 per cent in Q3 2008 to around 20 per cent in Q2 2009 - this time last year. Since then the share figure has stayed static at just over 20 per cent.
Netbook and tablet combined share of portable PC market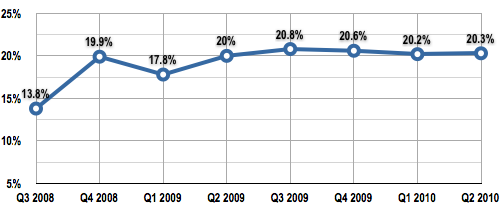 Source: DisplaySearch
Ignore the dip in Q1 2009, and the figure has been roughly the same since Q4 2008.
This shows netbooks have found their niche - though at a fifth of the mobile computer market, it's a big one.
But now tablets, and the iPad in particular, are eating into netbook sales.
DisplaySearch puts the Apple gadget's share of the netbook segment at 6.5 per cent in Q1 2010 - Apple shipped 700,000 of them into retail channels - rising to 30 per cent in Q2, though that remains a forecast aS the quarter's not done yet.
Crucially, that plateau share of the overall portable PC arena includes tablets. So iPad sales have come primarily at the cost of netbook sales, eating into the latter to keep the overall group's market share the same.
That's just the iPad - more tablets are coming, from HP and Samsung to name but two.
Netbook and iPad shipment volumes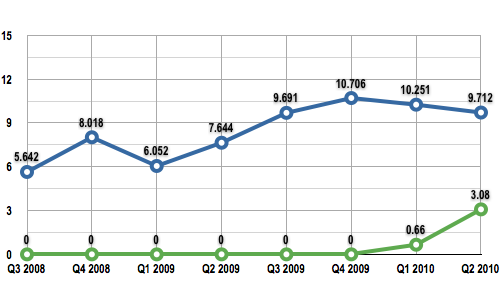 Source: DisplaySearch
Note: Q2 2010 figures are forecasts
Of course, some folk use netbooks as compact notebooks rather than media consumption and communications tools, which is the role the iPad has been given. But it's clear from DisplaySearch's numbers that the other group of users and buyers - those who might have bought a netbook simply for browsing, Tweeting and so forth - are turning to tablets.
If that were not the case, then Apple's sales would simply add to the total, boosting the netbook/tablet group's share of the total mobile computer market, but DisplaySearch's number show that wasn't the case. Equally, there's been no huge leap in overall mobile PC sales to allow the unchanged netbook and additional iPad sales to together retain the almost exactly same market share as the pre-iPad days showed. That's too much of a coincidence for us.
Clearly, then, the iPad isn't only being bought by fanboys.
Still, the real test for Apple will be when its offering gets some proper competition. Even if it doesn't, that's still not good news for netbook makers. ®