This article is more than 1 year old
WD SiliconEdge Blue 256GB SSD
Hard drive maker's solid state offering
Review Hard drive manufacturer Western Digital has taken not one but two steps into the Solid State Drive market. Up in the Enterprise stratosphere we have three WD N1x drives that use SLC memory and are hellishly expensive at £310 for 32GB, £649 for 64GB and £1099 for 128GB.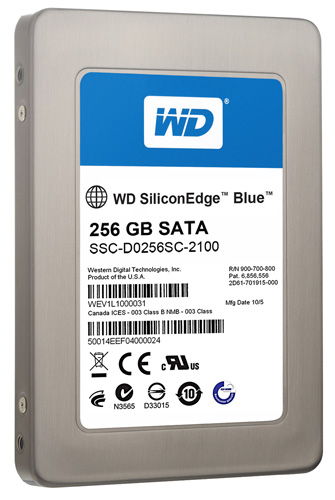 Solid offering? Western Digital's SiliconEdge Blue
Back on terra firma mere mortals can ponder on the SiliconEdge Blue family that uses MLC flash memory in three drives and carry more reasonable prices. The entry-level 64GB model costs £149, the 128GB sells for £269 and the 256GB drive on review has a price of £629. There's no denying that's a lot of money but it is par for the course with an SSD of this capacity.
Externally, the design of the SiliconEdge Blue is appealing. The case of 2.5in form factor drive is formed in two parts that appear to be made from coated stainless steel and at 9.5mm thick, it will fit inside most laptops. Remove the four tiny screws from the sides of the drive and you can pop off the top cover with the judicious use of a small screwdriver.
I removed four more screws to release the circuit board and, with the hardware in the palm of my hand, I could figure out part of the specification. There appear to be eight chips on each side of the board but close inspection revealed that the chips are double stacked which gives a total of 32 flash chips.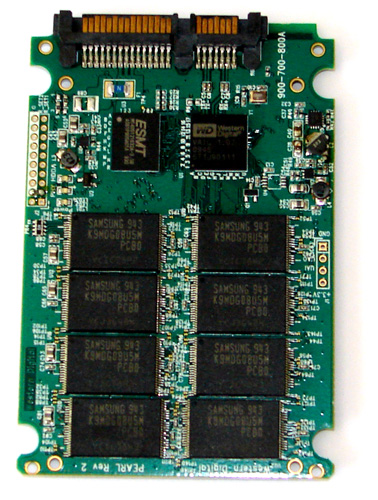 Circuit board inspection revealed a JMicron controller chip
The controller chip is branded with a WD logo and the firmware on the drive is version 5.12, which gives us no clue about the chip's true identity. However, the layout of the board and the location of the 64MB cache chip both suggest a JMicron design. A call to WD confirmed that the controller is 'the latest JMicron chip' which makes it a JMF612.