This article is more than 1 year old
WD SiliconEdge Blue 256GB SSD
Hard drive maker's solid state offering
JMicron has had a torrid time with its SSD controllers, some of it undeserved. Despite reports that the JMF602 suffered from terrible stuttering I have never personally experienced this problem. As it happens, when I reviewed the Kingston SSDNow V 128GB I found that the drive had fairly low performance but it didn't suffer from stuttering problems.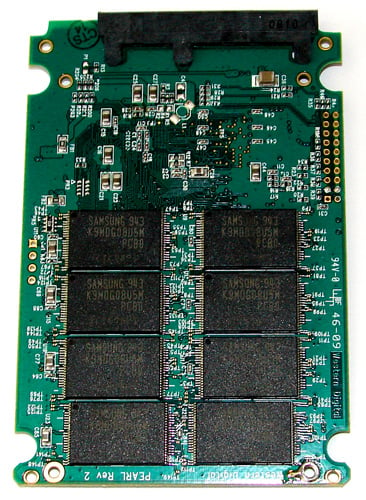 Double stacked chips make 32 in total
Since then I have tested an A-Data S596 combo drive which uses a JMicron JMF612 controller to add a USB 2.0 port alongside the Sata 2.0 connector and it also behaved itself during testing, although the performance was uninspiring. I had every expectation that the WD SiliconEdge Blue would work reasonably well, despite its use of a JMicron controller. The quoted read speed is 250MB/s and the write speed is 170MB/s, which is slightly lower than an Indilinx Barefoot SSD but none too shoddy.
Benchmark Tests
2GB Files Transfer Results

Time in Seconds (s)
Shorter bars are better
HD Tach Results

Bandwidth in Megabytes per Second (MB/s)
Longer bars are better
CrystalDiskMark Results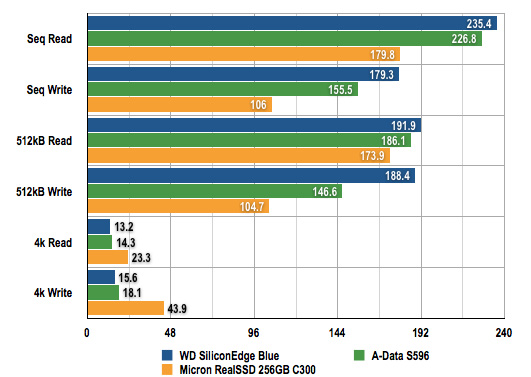 Data throughput in Megabytes per Second (MB/s)
Longer bars are better
I tested the WD using my regular Core i5 set-up with 64-bit Windows 7 and found that the results were similar to those from the A-Data S596, although there were some clear differences between the two drives. The Write IOPS test in Iometer was distinctly perkier on the WD SiliconEdge, where the score came in at 641 compared to a mere 69 for the A-Data.
That sounds like an impressive piece of development work by the WD team so it's worth reminding you that an Indilinx drive will score more than 1,000 in the same test, the second generation Intel X25-M will go north of 3,000 and the Micron RealSSD C300 has scored 7,622 using a SATA 3.0 interface.