This article is more than 1 year old
WD SiliconEdge Blue 256GB SSD
Hard drive maker's solid state offering
It is my firm opinion that the SSD controller firmware can have a massive effect on Iometer test results so it's time to point out some very bad news in the WD test results. Transferring 2GB of files within the drive took 79.9 seconds, which is disastrously slow as most SSDs take less than 30 seconds. I had to run the file transfer test a number of times and take an average as the figures fluctuated significantly from one run to another.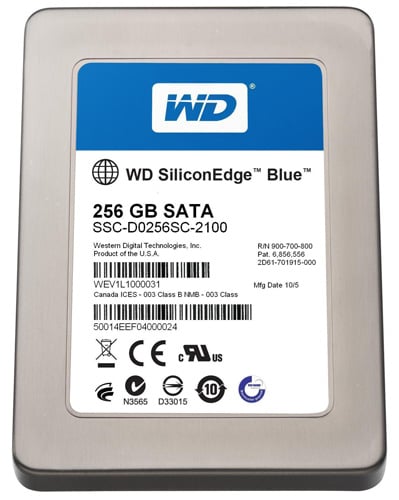 So So Drive?
The Windows progress bar visibly stopped and started during the transfer process, so the drive was clearly suffering from significant stuttering problems. The A-Data S596 – which is a slow SSD by any standards – took 68.2 seconds in the same test.
On this showing, it seems that WD has used an uninspiring controller chip in conjunction with its own firmware to deliver an SSD that delivers poor performance and also suffers from stuttering. In addition to those sins, the price is too high.
Verdict
In its current state, the SiliconEdge Blue is something of a stinker but I feel sure it could be saved with a firmware update. After that the next step is to slash the price to £499 but until that time I simply cannot recommend this drive. ®
More SSD Reviews...

Crucial
RealSSD C300
Kingston
SSD Now V
Intel
X-25M
Patriot
Torqx

WD SiliconEdge Blue 256GB SSD
Sizeable SSD, with a price to match.