Tape business shows steep decline
Heading for irrelevance?
The tape drive and media business shrank by a quarter in 2009. At this rate it could enter irrelevance in a few years time.
Tape market tracking organisation the Santa Clara Consulting Group said (pdf) tape drive and media sales represented a $1.58bn market in 2009, down 25 per cent from $2.1bn in 2008, which was lower than the $2.28bn reported in 2007. We (El Reg), charted the effect of a continuing decline at this 25 per cent rate.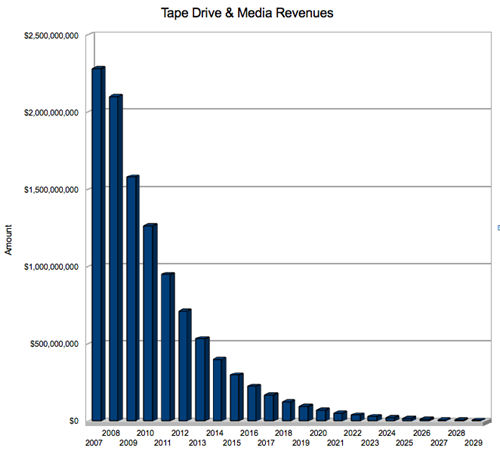 Register chart showing tape market decline at 25 per cent annual shrinkage.
Drives accounted for $629.28m and media for $955.53m of the revenue. LTO format products accounted for the majority of the 2009 business; its drives represented 83.3 per cent of drive revenue, with HP accounting for 51.1 per cent of that.
HP also sold the most LTO media at 31.24 per cent, with Fuji second at 12.7 per cent.
DDS/DAT drive sales amounted to $114.25m, down 31 per cent from the $165.37m total in 2008, representing just seven per cent of the total back-up technology market. DAT media accounted for $44.55m, with drives representing $69.7m. HP had more than half of the DAT media sales. The new DAT-160 format gained traction but with this rate of overall DDS/DAT market decline there's less and less chance of a DAT-320 format arriving.
Removable disk drive and dock sales are rising as ProStor's RDX format becomes more popular and its faster backup and restore speeds resonate well with small business customers less and less willing to wait while slow tape drives backup their data.
Quantum's DLT-V format drive and media unit sales were both off. The drives had sales of a near-trivial $3.95m in 2009 and media accounted for just $22.7m
LTO drives and media have the best outlook: LTO drive sales are expected to grow at a compound annual growth rate (CAGR) of 2.47 per cent from 2009 to 2014, with the media not actually growing, but declining least compared to other media formats at a CAGR of -2.21 per cent.
The recession no doubt contributed to the fall in tape drive and media sales from 2008 to 2009 but the changeover to disk-to-disk backup has to be the main reason for tape revenues to be falling so precipitously. A continued overall 25 per cent decline will see the tape market drop below $500m revenues in just four years. At that point virtually every format will be in maintenance mode. ®