This article is more than 1 year old
Hands on with Sony's NEX DSLR-quality compact camera
Ongoing optical options offensive
Video Sony UK held a launch party this week for its new NEX-5 and NEX-3 compact digital cameras. The company seems minded to make a dent in sales in the micro four-thirds format as both NEX models accommodate interchangeable lenses and utilise a 14.2Mp APS sensor.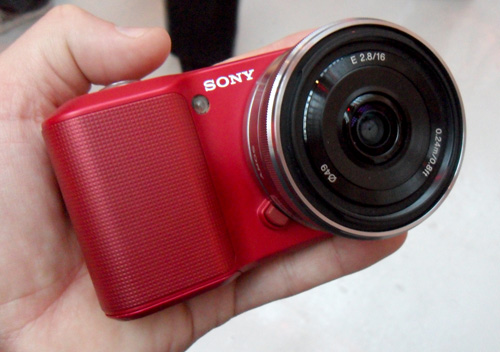 Sony's NEX cameras have a detachable flash to keep them compact
While NEX cameras were handed out to all and sundry to capture a catwalk spectacle, Sony didn't match the presence of mind of Panasonic at its DMC-G2 and G10 preview and actually let the users keep the memory cards with their images on.
Can't see the video? Download Flash Player from Adobe.com
Absent sample pics aside, we did get to video Sony UK's digital imaging specialist Paul Genge, running us through some of the features of the NEX series, among them, Anti Motion Blur, which captures six images in quick succession to make the best shot in low light conditions.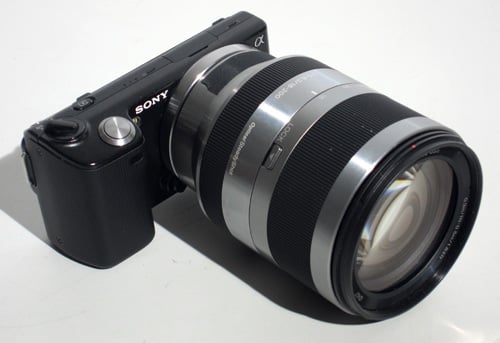 The E-mount 18-200mm lens makes its debut
Also on show were numerous lenses for this E-mount system, including the 18-200mm behemoth that won't be available until September.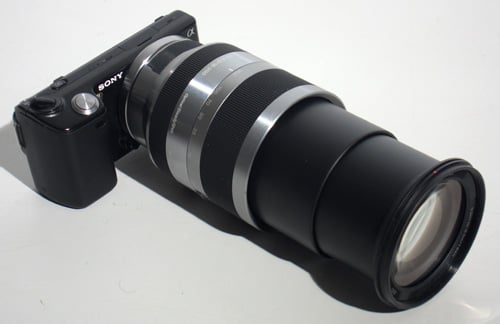 Fully extended, it's quite an appendage
Sony also boasts that its Alpha DSLR lenses can be used on NEX cameras with an adapter. Yet broadening the appeal of the NEX still further, are adapters from the likes of Rayqual for Canon, Nikon, Pentax and Leica lenses. However, Sony's response to these options was predictably muted. ®