The Telegraph has today answered those most pressing questions of the age: just what does Kim Jong-Il inspecting a radish look like, and when he inspects a radish, what conclusion can be drawn from the encounter?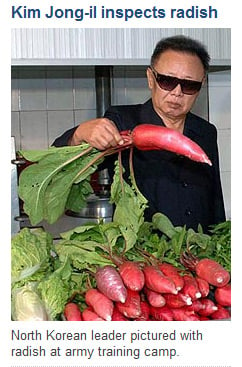 That conclusion, the paper explains, is that experts have suggested that North Korea's entire military machine is fuelled by radishes. This, of course, is a rare delicacy which the impoverished nation's hungry population can only dream of, as they chew boiled army surplus boot leather.
Naturally, such significant news demands a top-quality headline, and the Telegraph has, let's face it, pulled out all the stops to tell it like it is.
What it doesn't make clear, however, is whether the radish in question gained the Nork nutter's approval.
What's more likely, judging by his expression, is that the country's radish growers can expect an extended holiday in the country's salt mines. Expect further in-depth analysis as this breaking story develops. ®
Bootnote
As we speak, North Korea's plucky footballers are heading for defeat at the hands of Portugal. We suspect it'll be radishes all round when they get home, having acquitted themselves well in the World Cup. England, on the other hand, can consider themselves lucky they don't work for Kim Jong-Il, who'd probably have them all shot.