This article is more than 1 year old
Creative ZiiSound D5 wireless speakers
iOS-friendly Bluetooth music box
Review The performance of Bluetooth stereo headphones has improved noticeably over the last couple of years and can now give ordinary wired headphones a good run for their money. However, Bluetooth hasn't achieved the same rate of progress when used in standalone speaker systems.

Wireless world: Creative's ZiiSound D5
That could change, though, with the launch of Creative Labs' new selection of Bluetooth speakers. There are several models in the range, starting at about £60 for the portable D100 model, but we've taken a look at the top-of-the-range ZiiSound D5, which is priced at £280.
That's a fairly high price for what, in many ways, is essentially just a wireless iPod speaker-dock. The D5 does work hard to justify its price though. The attractive minimalist design consists of a single rectangular unit that measures 425 x 90 x 110mm. It's solidly built, with a 'full-frame monocoque exoskeleton' and weighs almost 4kg. There's not a single button visible on the front panel, as the D5 opts, instead, for touch-sensitive controls that allow you to adjust the volume and pair it with other Bluetooth devices.
There's no remote control included with the D5, as Creative assumes you'll be using your Bluetooth phone or other device to control the speakers. However, Creative does include a separate Bluetooth transmitter called the BT-D5.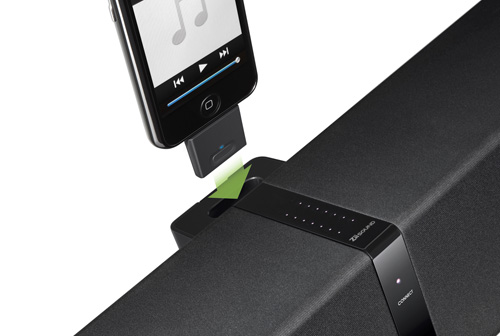 Charges IOS devices with the dongle attached
Any Bluetooth device, such as a laptop computer, iPod Touch or mobile phone can pair with the D5 using a standard Bluetooth connection, but the BT-D5 transmitter allows you to use the more advanced apt-X codec that delivers better audio quality.